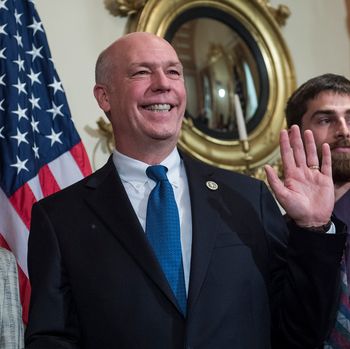 Photo: Tom Williams/CQ-Roll Call,Inc.
On May 24, the eve of the Montana special congressional election, Guardian reporter Ben Jacobs asked Republican candidate Greg Gianforte where he stood on the GOP bill to repeal and replace Obamacare. According to witnesses, Gianforte then "grabbed Jacobs by the neck with both hands and slammed him into the ground behind him."
Now Jacobs claims that while Gianforte promised in court to finally grant him an interview, he's refused to follow through. In a statement posted on Tuesday night, Jacobs said Gianforte "continues his pattern of avoiding responsibility for his actions and refusing to live up to the statements made in what I had thought was a sincere apology."
The "slanderous statement" Jacobs refers to came shortly after the assault, when Gianforte's spokesman claimed the situation only became physical as a result of "aggressive behavior from a liberal journalist":
After asking Jacobs to lower the recorder, Jacobs declined. Greg then attempted to grab the phone that was pushed in his face. Jacobs grabbed Greg's wrist, and spun away from Greg, pushing them both to the ground. It's unfortunate that this aggressive behavior from a liberal journalist created this scene at our campaign volunteer BBQ.
Jacobs's audio of the incident, coupled with the accounts of Fox News journalists, quickly proved that was not the case. Gianforte was charged with misdemeanor assault overnight, but ignored national calls to apologize. He finally expressed remorse at his victory party, saying, "I should not have responded the way I did and for that I am sorry."
In June, the tech millionaire released a letter expressing his "sincere apology" to Jacobs, and promising to donate $50,000 to the Committee to Protect Journalists as part of an agreement that Jacobs would not file a civil claim. Days later, Gianforte appeared in court to answer for the criminal charges. He pleaded guilty to misdemeanor assault, and was ordered to complete 40 hours of community service and anger-management service. CNNMoney reports that the court appearance is where the dispute over the interview began:
Jacobs was in court that day. When he gave a "victim statement" before the judge, he said he hoped to interview Gianforte in the future, since that's what he was trying to do at the time of the assault.




Before the end of the hearing, Gianforte addressed Jacobs directly: "I'm sorry, and if and when you're ready, I look forward to sitting down with you in DC."




Gianforte was sworn in on June 21. Jacobs, a reporter for The Guardian, started trying to schedule an interview the next day.
While Jacobs says Gianforte has reneged on his pledge, Gianforte's office claims they've made every effort to schedule a sit-down between the reporter and the congressman.
"As he has since June, Congressman Gianforte has offered to sit down with Mr. Jacobs," a spokesman said. "For anyone to suggest otherwise is false. We have been honest brokers in our efforts to arrange for Mr. Jacobs to sit down with the congressman, including providing Mr. Jacobs with possible dates and times for a meeting and asking what Montana beers the congressman could bring for Mr. Jacobs when they meet. Mr. Jacobs has yet to either accept or decline our offer. Congressman Gianforte's offer to Mr. Jacobs remains on the table."
As the Washington Post noted earlier this week, the two sides disagree on what Gianforte was promising when he expressed his remorse to Jacobs before a judge:
The key to understanding this impasse lies in wording. Jacobs expressed an interest in an interview; Gianforte expressed an interest in "sitting down" for a "meeting" — something that you can do without agreeing to an interview. A body slam, a false statement, not to mention the failed Republican attempt to repeal-and-replace Obamacare: These are all issues that Gianforte would presumably prefer to address off the record or not at all. 
Semantics aside, it seems we're still at square one: Gianforte is desperate to avoid answering Jacobs's questions on the record.