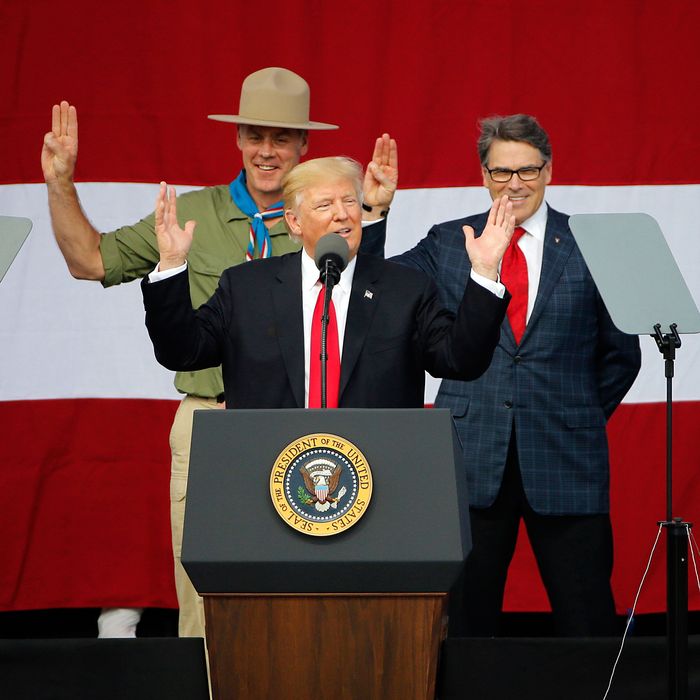 Scouts' honor?
Photo: Steve Helber/AP
The leader of the Boy Scouts of America did not tell President Trump that the speech he delivered at the National Scout Jamboree was the "the greatest speech ever made to them," the organization said Wednesday.
The group was forced to address the claim after Politico published an meandering interview Trump did with The Wall Street Journal the day after giving the speech. "I got a call from the head of the Boy Scouts saying it was the greatest speech that was ever made to them, and they were very thankful," Trump told the WSJ after he was asked whether there was a mixed reaction to the speech. "There was no mix there," he added.
"We are unaware of any such call," the Scouts told the AP. Despite the hedging denial, the group said definitively that neither its president, Randall Stephenson, nor its chief executive, Mike Surbaugh, made such a call to Trump.
If the call had gone down as Trump said, the Scouts would have had some explaining to do. Days after Trump's speech the organization issued a public apology, in which Surbaugh said, "We sincerely regret that politics were inserted into the Scouting program."
This isn't even the first time this week someone denied making a phone call Trump claims to have received. On Monday, when Trump was introducing his new chief of staff, Mike Kelly, he praised the former DHS Secretary's work on the border between the U.S. and Mexico.
"As you know, the border was a tremendous problem and they're close to 80 percent stoppage," Trump said. "And even the president of Mexico called me — they said their southern border, very few people are coming because they know they're not going to get through our border, which is the ultimate compliment."
That call was never made, the Mexican Foreign Ministry said in a statement, noting that President Enrique Peña Nieto "has not recently spoken to President Donald Trump over the telephone." A U.S. official confirmed this to the AP.
The statement did note the last time the two leaders spoke, which was on the sidelines of last month's G20 summit in Hamburg. There, they discussed declining deportations of Mexicans from the U.S. and a drop in the number of Central American migrants entering Mexico. But that information was relayed less as a compliment than as a statement of fact, the AP says.
That means Trump is either lying or misremembering. Either way, he's creating problems for others. The Boy Scouts are now enduring a second week of headlines regarding a speech that had some parents pulling their kids from the group. Meanwhile, Peña Nieto has taken heat from Mexican lawmakers for making a "secret phone call" and complimenting Trump —two things he would surely avoid.