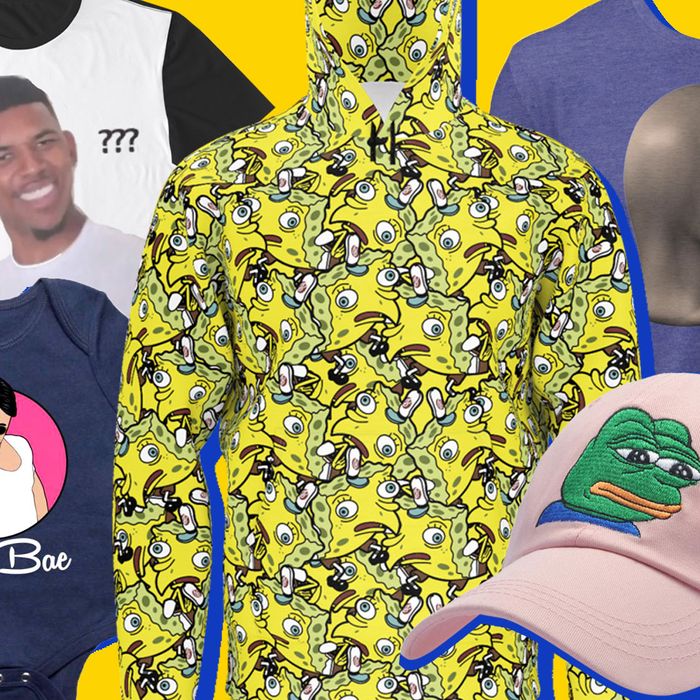 Thomas Marquart was initially skeptical about selling a hat emblazoned with a meme. It was December 2016, and the particular meme he had in mind — Evil Kermit — had been catapulting across the internet for a few weeks, transfixing much of the conversation on social media. Whether anyone would actually want to wear the hugely popular Muppet joke like an internet-savvy badge, however, was a question he couldn't answer.
So Marquart posted a picture of the hat to the Instagram account of his company, Dad Brand, and suddenly found himself awash in eager meme aficionados. As requests for the $30 item flooded his website, it became clear that viral content could be a moneymaker. "There was obviously something here," he says.
Marquart had unwittingly joined a legion of independent designers already peddling meme-based clothing through online retailers like Etsy, Amazon, and Redbubble. In an environment where dank memes are more popular than Jesus, it makes sense that ephemeral favorites like Harambe, the Babadook, Salt Bae, Tea Lizard, and Mocking SpongeBob have been commoditized as print-to-order shirts. After all, if something goes viral, why not find a way to sell it?
Opening up the meme marketplace is a smart business proposition, says Redbubble CEO Martin Hosking. The online print-to-order merchandising platform, which specializes in clothing and accessories, sells just over 40,000 meme T-shirts, ranging from the innocuous and silly to more contentious and offensive varieties. With the site, artists source their product from the bottom rungs of the internet, using memes born in obscure subreddits and corners of 4chan to make a quick buck. While it's occasionally courted controversy by allowing for the sale of racist and bigoted imagery, Redbubble is a clear indication that a new form of meme-inspired fashion design is not only here to stay, but lucrative.
While meme sales account for a negligible portion of Redbubble's total revenue, Hosking says those of a political variety have often garnered success. "The Trump stuff, both pro- and anti-Trump, just seems to have caught the popular imagination," he says. As sales of political merchandise have often been used as a low-rent barometer to measure who will triumph in elections, 2016 was a watershed year for Trump-meme shirts, especially on Redbubble. "We could almost predict that Trump was going to win, because Trump was outselling Hillary Clinton about five to one," he says. To give you an idea, Hosking says there's upwards of 30,000 Trump-related items for sale on the platform.
Redbubble isn't alone as a bastion of Trump-centric swag, which means Pepe — the ubiquitous cartoon frog born in 4chan, who later became the adopted figurehead of the alt-right and a hate symbol tracked by the Anti-Defamation League — has been a popular seller across the web. Michael John, who runs the Etsy page Dumb Shirts, says he had "a solid run out of Pepe," but had to stop hawking the divisive frog. He "got hit in the first round of the 'anti-Pepe' assault" last year, which occurred after Hillary Clinton pilloried the meme in her now-infamous "basket of deplorables" speech during a campaign stop.
Even though he doesn't sell Pepe shirts anymore, John still surmises that "Pepe is probably a bigger seller than ever, because he's become a symbol of Trump supporters." While there's certainly a plethora of items catering to the anti-Trump set, he notes in an email that "the 'left' (broadly speaking) just [doesn't] have the memes" — and therefore the shirts — "that the anti-left does."
Still, political symbols and slogans aren't the only things a prospective meme fashionista wants to wear, as evidenced by the plethora of "Dicks Out for Harambe" shirts, mugs, and baby garments available basically everywhere meme clothing is sold. John notes that he's yet to see anything match last year's Harambe hysteria, but says perennial favorites like Doge and Dat Boi consistently rank among the most popular meme garb.
Some memes, however, haven't made the successful leap from Tumblr to fabric, but it hasn't been for lack of effort. Marquart, of Dad Brand, made a tiny run of shirts celebrating the short-lived Nut Button meme, but couldn't actually bring himself to market it with any real conviction. After designing the shirt and putting it on his website, he ultimately decided that the meme's sophomoric overtures wouldn't translate to sales, and took it down. "Thinking about it as a 30-year-old guy, I'm probably never going to wear this," he says.
Toeing the line of what will resonate with people is tricky, especially as memes come and go at an alarming clip, and generally "become more meta and normie-averse," according to Michael John. But if a meme blows up, it'll more than likely wind up on something you can wear, mainly because people use memes as a way to broadcast personal identity and foster connection with others.
"The best memes are simply very effective jokes, and like any joke, you either get it or you don't," says John. People coalesce around memes like they do any sports team or band, and shirts — as they've always been — are a means of signaling one's tribe. It's just that identities are now forged with the aid of technology and the sprawling cultural conversations that occur online, for better or worse. So if a meme makes you laugh, or offers a scathing political sentiment, why not share that joy or conviction with others in real life by literally wearing it on your sleeve?
"People are looking for connection," says Hosking. "We're sort of atomized in a way, where we're trying to find our tribe." With memes becoming an evermore-trenchant part of our permanently plugged-in culture — after all, legacy fashion brands are using them as a marketing tool to reach new audiences — it's likely that they'll continue to provide fodder for political causes and run-of-the-mill jokesters alike. And since everyone who wades through the internet's dense meme culture will always need a shirt to wear, there's always going to be a market in place — not to mention a near-endless supply of designs.