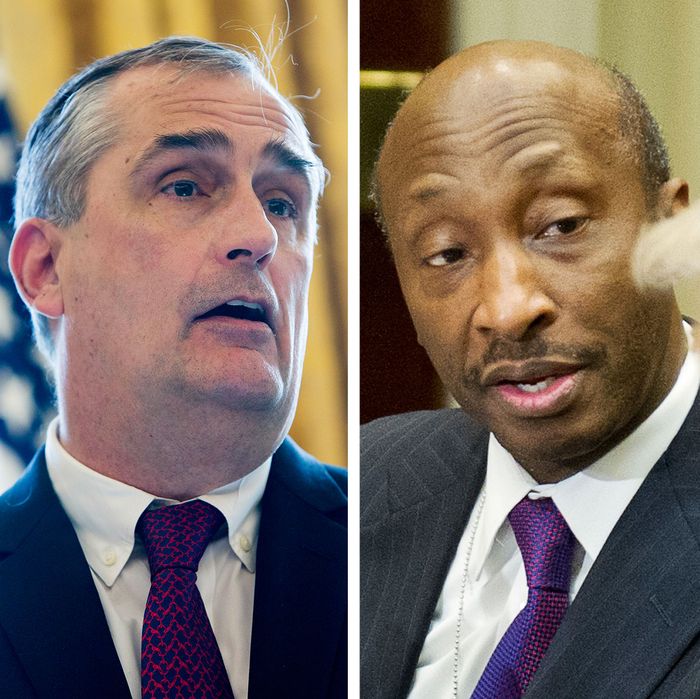 Krzanich, Frazier, and Plank.
Photo: Chris Kleponis-Pool/Getty Images; Ron Sachs - Pool/Getty Images; Ethan Miller/Getty Images
President Trump disbanded two business advisory councils Wednesday as CEOs continued to distance themselves from the White House in the wake of Trump's response to the deadly violence in Charlottesville, Virginia, over the weekend.
The move comes despite Trump's claim Tuesday that he could easily replace any "grandstander" who quit.
Earlier Wednesday, 3M CEO Inge Thulin became the fifth chief executive to leave Trump's manufacturing council since Saturday.
Thulin was followed in short order by Campbell's CEO Denise Morrison, who wrote a strongly worded statement:
The New York Times reported that the entire council was on the verge of dissolving a day after Trump once again blamed "both sides" for the violence and showed sympathy with white nationalists.
Doug McMillon, the CEO of Walmart, had issued a statement on Tuesday calling out President Trump for his inadequate response to the deadly white-nationalist rally in Charlottesville, Virginia, last weekend.
"As we watched the events and the response from President Trump over the weekend, we too felt that he missed a critical opportunity to help bring our country together by unequivocally rejecting the appalling actions of white supremacists," McMillon wrote.
Despite the excoriation, it appeared that McMillon would remain on Trump's presidential manufacturing council.
After Merck CEO Ken Frazier quit the council on Monday morning over the president's failure to denounce white nationalists over the weekend, two other chief executives followed suit, with signs that more may follow.
Under Armour CEO Kevin Plank announced his decision to resign from the council Monday evening in a vaguely worded statement that didn't mention President Trump or Charlottesville.
Third to go was Intel CEO Brian Krzanich, who wrote in a much more direct blog post Monday night that he resigned "to call attention to the serious harm our divided political climate is causing to critical issues."
On Tuesday, Scott Paul, president of the Alliance for American Manufacturing, tweeted his resignation from the council.
And after a bizarre press conference in which President Trump criticized the "alt-left" for instigating some of the violence in Charlottesville, AFL-CIO president Richard Trumka had heard enough. "We cannot sit on a council for a president who tolerates bigotry and domestic terrorism," he wrote.
Pressure continued to mount on other executives to quit, but the New York Times reported on Monday that some were too frightened by the threat of presidential excoriation, or of losing business opportunities, to pull the trigger. Dell and General Electric said that their CEOs would remain on the council.
Trump quickly went after Frazier, who is black, on Twitter Monday morning, calling him out for Merck's high drug prices. (Never mind that the Trump administration has done nothing to combat them.) At that point, the president still hadn't issued a full-throated condemnation of the white nationalists who rallied in Charlottesville on Saturday. His much-delayed press conference on the matter didn't appear to stem the tide of corporate criticism, and Axios reported that the conversation about whether to leave the council "is viral in boardrooms right now."
Then on Tuesday, in a raucous press conference at Trump Tower, the president said that CEOs who quit the council did so out of "embarrassment" because their products are made outside the U.S. He said that such executives "aren't taking their jobs seriously."
This post has been updated to reflect Wednesday's developments.