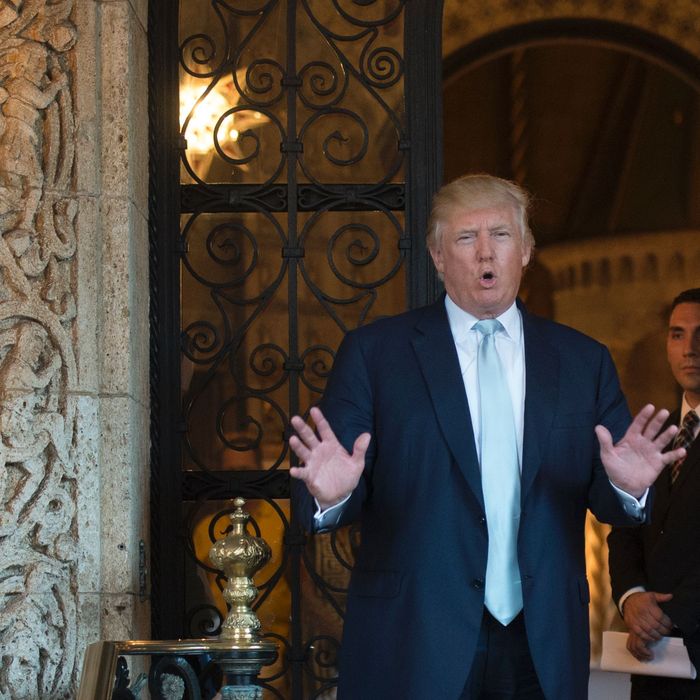 One of President Trump's most elite properties, which he is seen standing in front of above, is clearly losing some of its appeal.
Photo: Don Emmert/AFP/Getty Images
Continuing a trend of mass exodus from the orbit — or perceived orbit — of President Trump in the aftermath of the violence in Charlottesville, eight charities have decided to move their fundraising events from Trump's Mar-a-Lago resort in Palm Beach, Florida, over the past few days. The Palm Beach Post reports that on Friday, Susan B. Komen, the Salvation Army, International Red Cross, Autism Association of Palm Beach County, and Big Dog Ranch Rescue all announced they wouldn't hold their planned events at the club this coming winter, joining the Cleveland Clinic, American Cancer Society, and American Friends of Magen David Adom (which supports disaster relief in Israel), who all cancelled their Mar-a-Lago events on Thursday. As with most of the CEOs who quickly backed away from Trump this week, it seems that the president's unhinged Tuesday press conference was what set events in motion.
Speaking to reporters at that now-infamous event, the combative president doubled down on his previous assertion that white supremacists were not the only people at fault for the violence that erupted at a white-supremacist rally in Charlottesville last Saturday — violence which resulted in the death of 32-year-old Heather Heyer and injuries to dozens of others.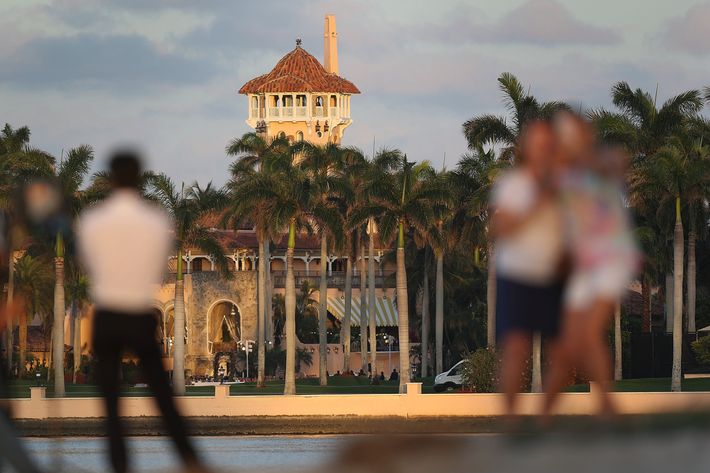 The Palm Beach Daily News adds that a total of 16 charities who held events at Mar-a-Lago over the past year have now bailed on the club in recent months or days. Only five charities, including three local Palm Beach organizations, have committed to still holding their events at Mar-a-Lago. Another four charities with events planned at the club either haven't decided what to do or haven't yet responded to media inquiries. The executive director of the Palm Beach Chamber of Commerce, Laurel Baker, is urging charitable organizations trying to stick with Mar-a-Lago to reconsider, warning them that deep-pocket donors "have a conscience."
There have also been calls on social media to boycott charities that were still planning events at the property, which has likely added to the pressure.
"Our values and commitment to diversity are critical as we work to address the impact of cancer in every community. It has become increasingly clear that the challenge to those values is outweighing other business considerations," the American Cancer Society explained when announcing that it was moving the two upcoming events it had originally planned to hold at Mar-a-Lago.
At least some of the organizations appeared to have relationships with members of the Trump family. President Trump has repeatedly been the chair of the International Red Cross's ball, which has been held at Mar-a-Lago since before Trump bought the estate. And Lara Trump, the president's daughter-in-law, was a co-chair of the annual Mar-a-Lago event hosted by Big Dog Ranch Rescue.
On Saturday, the Washington Post's David Fahrenthold, who has tracked the Trump Organization's relationships with charities more than anyone, pointed out that while the Trump hotel in Washington, D.C., has been doing well, his other more distant properties are clearly suffering under the weight of Trump's controversial presidency. That includes not only an event drop-off at Mar-a-Lago — which now appears to be losing support from the Palm Beach elite who Trump covets — but also at the Trump SoHo hotel in Manhattan, as well as at the Trump golf courses in the Bronx and Los Angeles. According to Fahrenthold, the trend "shows how vulnerable Trump's business is to backlash, because it needs big-ticket customers to want to put Trump's name on their own special events."
Speaking of special events, the president and First Lady also announced on Saturday that they will not attend this year's Kennedy Center Honors in D.C., in the wake of three of this year's five honorees vowing to boycott the traditional White House reception that accompanies the celebration. The president and First Lady traditionally attend the December event, but Donald and Melania Trump are staying away this year "to allow the honorees to celebrate without any political distraction," according to White House spokesperson Sarah Huckabee Sanders.
This post has been updated to include David Fahrenthold's analysis.