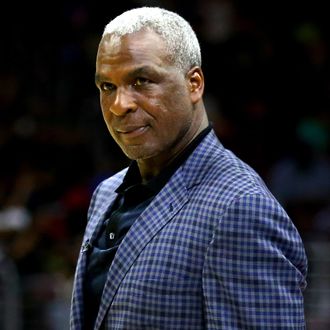 Punishment: Not having to watch the Knicks lose at home.
Photo: Mitchell Leff/BIG3/Getty Images
Charles Oakley won't be stepping inside Madison Square Garden for an entire year. The Knicks legend agreed to a one-year ban from the famous arena as part of a plea deal to drop misdemeanor assault charges against him, stemming from a squabble at a basketball game in February.
Oakley rejected a previous plea deal, saying he did nothing wrong and would prove it in court. But he apparently changed his mind on Friday, when the trial was supposed to start. Now Oakley will see all charges dropped if he doesn't get arrested in six months, and, of course, stays away from the Garden.
This off-court saga began after Oakley was kicked out of a Knicks-Clippers game in February and charged with assault after apparently getting into a brawl with Garden security guards. Security had approached the former player because he'd reportedly been yelling at Knicks owner Jim Dolan, who was sitting a few rows in front of him. Oakley still denies that ever happened, though he was ultimately arrested for allegedly shoving a guard. "Like I said from day one, I wasn't wrong," Oakley told reporters on Friday. "Everybody who seen it, they know what happened. It's just wrong."
And it does not seem like the ex-Knick is ready to let bygones be bygones. Oakley had an icy relationship with Dolan before this incident, but Oakley's attorney said Friday that the former player will be "pursuing civil remedies against Mr. Dolan based on this incident." As for that one-year ban, Oakley probably won't be missing much.