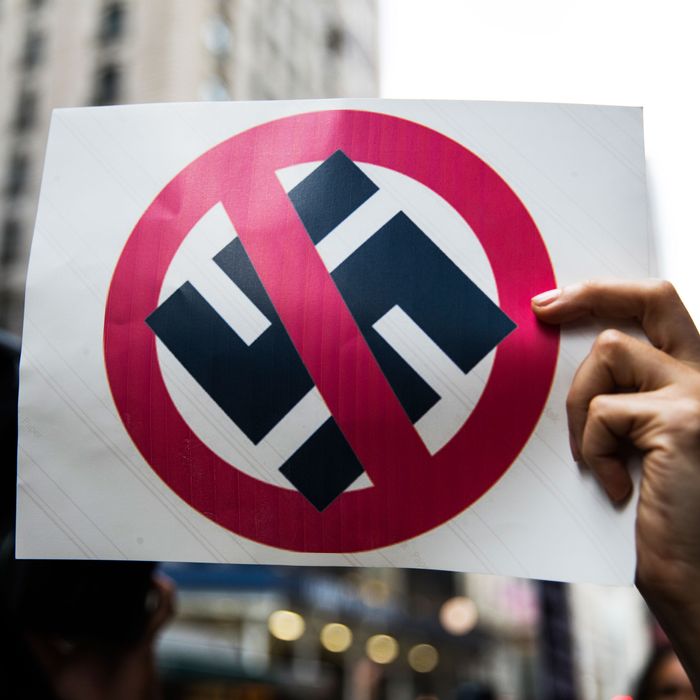 Photo: Robert Nickelsberg/Getty Images
It probably shouldn't have gotten this far, but the weekend's violence in Charlottesville has provided tech platforms with unambivalent opportunities to finally reject the toxic, white-supremacist politics that, until now, have had free rein of those services. The conventional wisdom used to justify this was that these platforms didn't want to get into regulating what users say on the services, because moderation and enforcement might deter further usage (and, perhaps more importantly, cost the companies money). Regulating speech is apparently bad for business, even though these companies have profited off liberal rhetoric for years.
But it seems that "actual white-supremacist violence" is the straw that broke the camel's back. Yesterday, both GoDaddy and Google rejected the Daily Stormer from using their domain-name services, citing terms of service violations committed in the white-nationalist site's write-up of the death of Heather Heyer. Google, which the Daily Stormer switched to hours after GoDaddy gave them the boot, responded surprisingly fast, especially given the company's other ongoing controversy surrounding free speech.
Meanwhile, Facebook is also taking rare steps to stop the spread of the Daily Stormer's Heather Heyer blog, removing shares from user's profiles. It's probably worth noting that Facebook played a significant role in the ghastly screed's spread by featuring it in the algorithm-powered news section, where it was shared more the 65,000 times. According to the Verge, moderators are now removing Facebook posts linking to the article that don't explicitly condemn the Daily Stormer's writing. For months, CEO Mark Zuckerberg has hemmed and hawed about how limiting speech on the platform is detrimental to an open dialogue, but now the company seems more open to acknowledging that not everyone deserves to leverage the platform.
In the mean time, smaller platforms are reckoning with their role as seemingly neutral tools for internet users of all ilks. GoFundMe shut down multiple fundraisers yesterday that intended to raise legal funds for James Fields, the driver arrested and charged with Heyer's death. The service cited rules against fundraisers promoting abusive behavior and hate speech. Slack-like chat service Discord also shut down an alt-right server.
The inarguable, well, Nazi-ness of the whole situation has finally allowed moderation-wary platforms to find out what it's like to prohibit certain types of objectionable (yet not illegal) content on their platforms, and to find out what, if any, effect it has on the overall ecosystem.