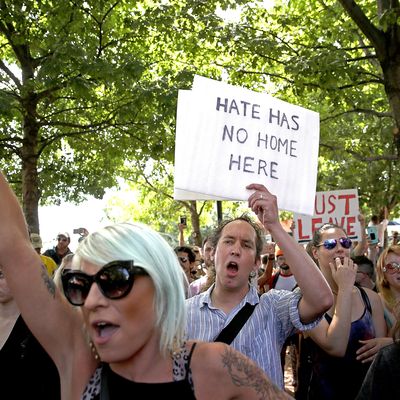 Protestors chant after white-nationalist organizer Jason Kessler was chased off while trying to give a press conference.
Photo: Win McNamee/Getty Images
A day after a white-nationalist riot left one dead and dozens injured in Charlottesville, one of the co-organizers of the rally attempted to hold a press conference in the city, but was shouted down and chased away by protestors as he started to address the crowd.
Jason Kessler, who helped coordinate Saturday's ill-fated "Unite the Right" rally, was slated to speak at 2:00 p.m. on Sunday outside Charlottesville City Hall, but a large number of protestors drowned him out with chants of "Shame!" As protestors crowded Kessler and shouted into his microphone, police had to escort him from the premises while some in the crowd gave chase.
In a video filmed after the event, Kessler claimed that, "Once again, violence is winning out over ideas and the First Amendment," blaming Charlottesville police for failing to separate him from "the violent mob."
The Southern Poverty Law Center describes Kessler as a "relative newcomer to the white nationalist scene" who may have been active in Occupy Wall Street before undergoing a political transformation. A University of Virginia graduate, he gained notoriety for his campaign against a black Charlottesville City Council member, who resigned after Kessler surfaced a series of years-old offensive tweets. Kessler was arrested during May's torchlit rally in Charlottesville that was a precursor to Saturday's event.