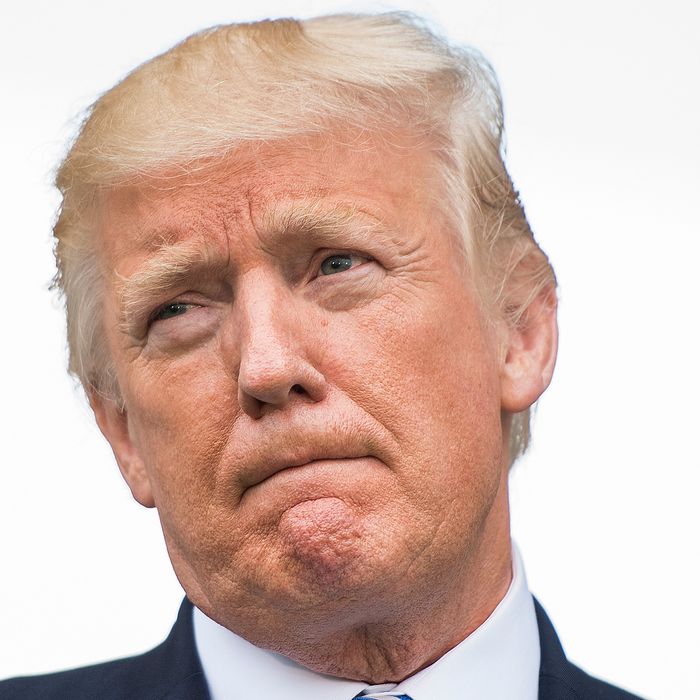 The population of Trump's island may be shrinking.
Photo: Jim Watson/Getty
On Saturday afternoon, President Trump failed to condemn white nationalism during his remarks on the violence at a chaotic rally in Charlottesville, Virginia, that left one dead and 34 injured. Instead, he pinned blame for the violence on "many sides," sparking an immediate outcry from almost all corners of the American political universe. A bipartisan raft of elected officials pushed back on the president, with many specifically demanding that he call out white domestic terrorism by name. Notably, some of the most forceful voices in this group were Republicans:
By Sunday morning, President Trump found himself on a rhetorical island, as the White House — as it tends to do — redoubled Trump's unpopular stance.
(Later, in a supremely unconvincing clarification, an unnamed official said that "of course" Trump's "many sides" statement included white-nationalist groups.)
It's true that reprimanding Trump for failing to voice the basic sentiment "Nazis are bad" is low-hanging fruit; mustering up the courage to do so cannot be construed as an act of bravery. Nevertheless, in 2017, with a Republican Party that has mostly marched in lockstep with their incompetent and unstable boss, it counts as progress. And it's part of an unmistakable trend in the past several weeks of Republican officials distancing themselves more and more from the president.
A key turning point in the relationship between the White House and Republican lawmakers was the latest Senate vote to repeal Obamacare in July, in which three GOP senators broke with their party to defeat the bill in dramatic fashion. That high-profile collapse capped off a singularly unproductive first six months for the president, and led Trump, not for the first time, to cast aspersions on his own party.
Since then, there have been several signs that a once-pliable Congress has grown some semblance of a spine. After Trump lashed out at Attorney General Jeff Sessions for recusing himself in the Russian electoral-interference investigation, senators and House members rushed to defend him, then took steps to make it impossible for Trump to dismiss him. Congress also effectively forced Trump to sign a punishing series of sanctions against Russia, Trump's favorite non-U.S. country. And last week, Senate Majority Leader Mitch McConnell offered some of his most substantial criticism of Trump to date, calling the president out for his amateurishness and provoking a predictably harsh Trump response.
North Dakota's John Thune, the third-ranking Republican senator, described Republicans' newfound approach: "I wouldn't say ignore the White House, but certainly not be distracted by it."
Trump, of course, has never harbored any particular loyalty toward Republicans, as was evidenced repeatedly during the 2016 campaign. He ran as an outsider, and it's always been clear that his only real loyalty is to himself and his family, and that he would likely turn on his purported allies at the slightest chance of trouble.
But his popularity with base voters, plus the real possibility that he would unleash his impassioned supporters on lawmakers he deemed insufficiently loyal, made most Republicans wary of crossing him. That fear seems to have at least partially subsided for several reasons. Chief among them: Trump is significantly less popular than he was when he began his term, making him less politically threatening. Another important one: Republicans seem genuinely fed up with Trump's refusal to accept any of the blame for problems he has helped bring on himself.
This is not to say that Trump has lost all of his sway with Republican lawmakers. And if it becomes expedient for Republicans to mute their criticism again, they probably will. After all, Trump's footsie-playing with white nationalists and neo-Nazis throughout the presidential campaign, and his continuing demonization of immigrants, have drawn next to no protest from his own party. More Republicans may be criticizing him, but that's a long way from invoking the 25th amendment.
But for now, at least, rank-and-file Republicans seem more emboldened to defy the president. And with what appears to be a very active investigation swirling around him, that isn't good news for Trump.