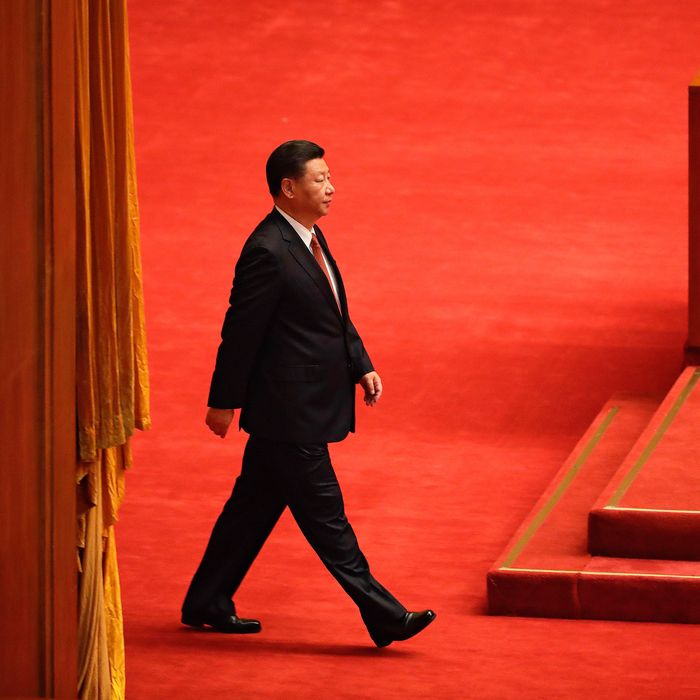 China's President Xi Jinping.
Photo: Andy Wong/AFP/Getty Images
Chinese state media warned President Trump on Monday against trying to solve problems with "emotional venting," a clear reference to a series of tweets from late last week in which Trump expressed his disappointment in China's inability to solve the problem of North Korea.
"Trump is quite a personality, and he likes to tweet," the government's media arm, Xinhua, said in an editorial translated by the New York Times. "But emotional venting cannot become a guiding policy for solving the nuclear issue on the peninsula."
The editorial said the U.S. is "spurning responsibility" for the standoff with North Korea and suggested Trump should stop trying to "stab China in the back." It added that the U.S. is risking "adding kindling or, even worse, pouring oil on the flames."
Meanwhile, the primary U.S. strategy for North Korea continues to lean hard on China to "put a heavy move," whatever that means, on North Korea. Trump likely has no clue what he wants China to do, something that's painfully obvious when considering the range of opinions he's held on the issue.
There's the one stated in the tweets above: China could solve the problem if it would only try.
Then there's the opinion he expressed on June 20: China has in fact worked hard on the issue of North Korea, but hasn't succeeded in solving it.
And lastly, there's the opinion he formed after a short discussion with Chinese president Xi Jinping: China doesn't have much power over the situation at all.
"After listening for ten minutes, I realized it's not so easy," Trump told the Wall Street Journal in April. "I felt pretty strongly that [China] had a tremendous power over North Korea. But it's not what you would think."