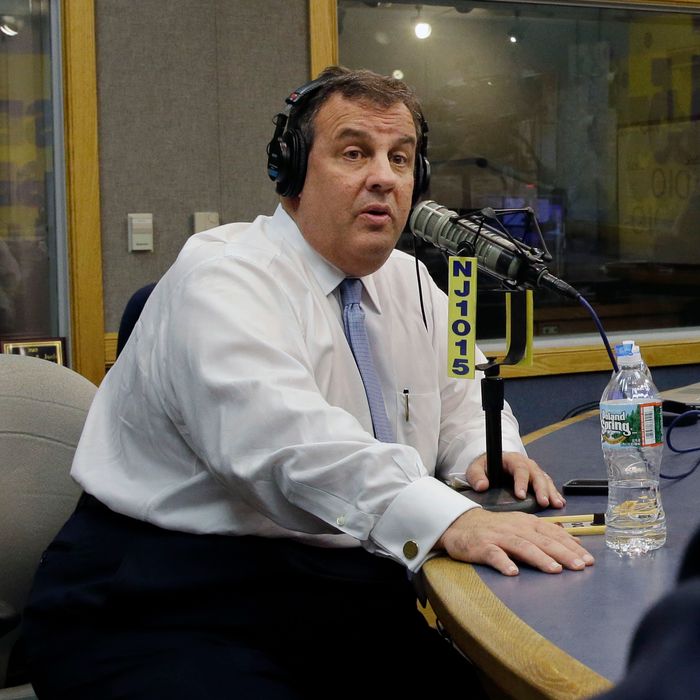 Not what Christie's next gig will look like.
Photo: Pool/Getty Images
From Steve Bannon to Carl Icahn to Trump's business advisory councils, there were a number of instances last week in which the White House tried to obscure whether or not people were leaving the president's orbit voluntarily. Now Chris Christie — who was dropped from his role leading the Trump transition shortly after the election — finds himself in a similar situation, albeit with far, far lower stakes.
Thanks to term limits, Christie wouldn't be able to serve a third consecutive term as New Jersey's governor even if he weren't historically unpopular. Last month, Christie auditioned to replace Mike Francesa on WFAN after the sports-radio host retires in December.
On Saturday, the Daily News reported that Christie had been informed that he was no longer in the running, though the search is still on for Francesa's replacement.
The next day Christie said the story was "completely incorrect." It's true that Christie has no future on WFAN — aside from continuing to occasionally fill in on the Boomer & Carton show — but supposedly that's because he took himself out of the running. Christie said in a statement:
After considering the other options that I have been presented with for post-gubernatorial employment, I declined their request to do additional shows. I made station executives aware that while I would be happy to continue to fill in for Boomer when asked and when available, that they should no longer consider me as a candidate interested in any job at WFAN when I leave the governorship. I made that clear to them prior to leaving for my family vacation two weeks ago.
As newjersey.com notes, it's unclear what "other options" Christie is referring to as "he is prohibited from negotiating future employment while still in office."