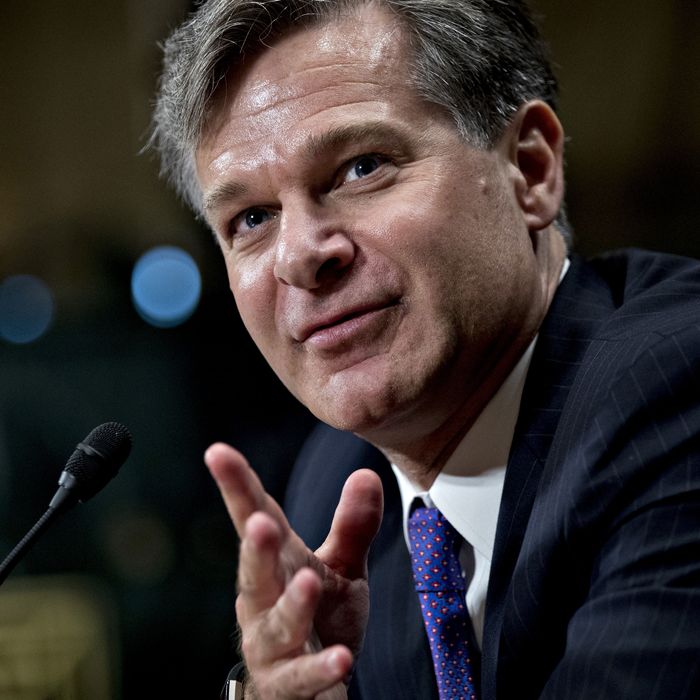 Impeccably credentialed man, and new FBI director, Christopher Wray.
Photo: Andrew Harrer/Bloomberg via Getty Images
Nearly three months after President Donald Trump abruptly fired former FBI director James Comey, the Senate overwhelmingly confirmed Christopher Wray, 92 to 5, to take over the bureau.
Wray, who Trump has described as a "man of impeccable credentials," served in the Justice Department under George W. Bush, then joined a white-shoe law firm, where he notably helped represent New Jersey governor Chris Christie in the Bridgegate case. On his way to becoming the eighth director of the FBI, Wray assured senators that he would guard and preserve the FBI's independence, despite being nominated by a guy who demanded loyalty from his predecessor. "My loyalty is to the Constitution and to the rule of law," Wray said at his July 12 hearing. "Those have been my guideposts throughout my career, and I will continue to adhere to them no matter the test. I will never allow the FBI's work to be driven by anything other than the facts, the law, and the impartial pursuit of justice. Period."
The five holdouts on Wray's confirmation all came from the Democratic camp — including New York senator Kirsten Gillibrand — though he still garnered impressive bipartisan backing to lead the FBI after the turmoil set off by Comey's ouster. Wray also testified at his confirmation hearing that he was "very committed" to supporting the Russia investigation led by special prosecutor Robert Mueller — which, if history is any guide, means he might want to hone his contemporaneous memo-writing skills.