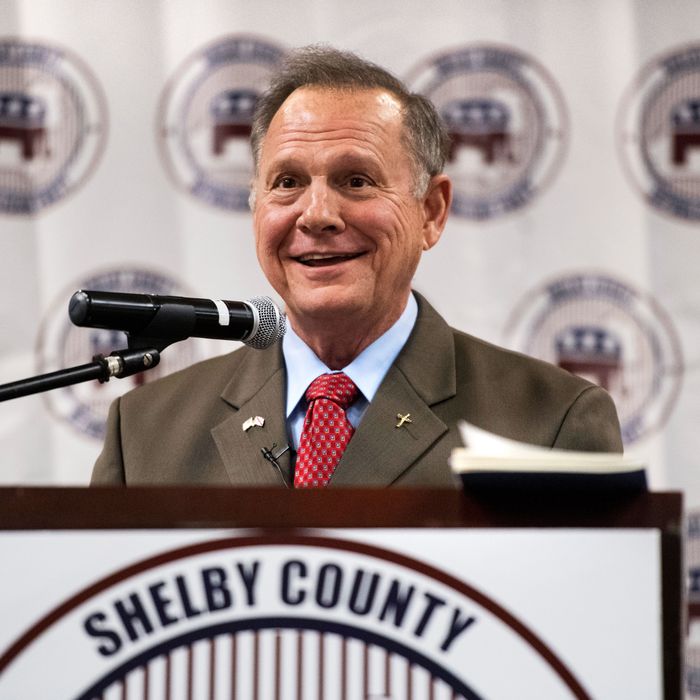 His two leading GOP opponents have all but ignored Judge Roy Moore. But in a classic murder-suicide scenario, they may have made him a viable alternative.
Photo: Bill Clark/CQ-Roll Call,Inc.
Alabama Republicans are holding a primary election next week to choose their replacement candidate in the Senate for Jeff Sessions. Until recently, the widespread expectation was that in the outcome of the three-horse race between appointed incumbent Luther Strange, U.S. Representative Mo Brooks, and suspended Supreme Court Chief Justice Roy Moore, either Strange or Brooks would survive this round of voting to make it to the September 26 runoff election. The survivor would defeat Moore, then roll over whatever paper candidate the Democrats proffered in the general. Moore's universal name ID and dedicated conservative Evangelical following seemed certain to guarantee him a spot in the September 26 runoff, though the heavy spending of Strange and Brooks opened the possibility that they'd squeeze Moore, who has never been much of a fundraiser, into third place. After all, the last time Moore ran for a nonjudicial position, in the 2010 governor's race, he finished a very disappointing fourth in the primary.
But now, the dynamics of the primary are beginning to resemble one of those murder-suicide scenarios where two candidates damage each other so much that a third eclipses both of them. Strange and Brooks have been going after each other with claw hammers from the get-go, with the former benefiting from massive spending by national party groups controlled by his colleague Mitch McConnell, and the latter accusing his appointed rival of being a puppet of the hated Washington Establishment. Both campaigns have largely ignored Roy Moore. Other than posturing over who's the truest conservative of them all, there aren't many actual issues dividing the three candidates.
A new robo-poll of Alabama Republicans shows Moore holding a comfortable lead over his rivals with 30 percent, to 22 percent for Strange and 19 percent for Brooks. That's not particularly new; Moore has led most of the polls in this race. What's new is that the judge's approval ratios are vastly better than those of the two main combatants in the race: Moore is at 53/34; Strange is at 35/50; and Brooks is at 31/43. The nastiness between Strange and Brooks could get even worse down the stretch, as a wealthy Brooks backer invests in ads accusing Strange of a corrupt deal with disgraced former governor Robert Bentley to secure his appointment (Strange was attorney general at the time, and was supposedly investigating Bentley for the personal and financial irregularities that eventually forced him to resign).
Suddenly, it's not so hard to envision Moore winning the runoff, as embittered supporters of the major candidate who finishes third stay home or gravitate to the judge.
If Moore does win the GOP nomination for the U.S. Senate, Alabama opinion-leaders will have to take a good look at themselves and decide whether they really want to be represented at the highest levels of government for six long years by a grim theocrat who was removed from his chief justice position once for insisting on displaying the Ten Commandments in his courtroom, and then suspended years later because he refused to accept the U.S. Supreme Court's decision legalizing same-sex marriage. The man known as the "Ayatollah of Alabama" isn't likely to burnish the reputation of his state as a sane and safe place to do business.
Indeed, a Moore nomination could even create the possibility of something even more unimaginable than his election: a viable Democratic candidacy in the general election scheduled for December 12. Unfortunately, Democrats have their own unusual problem this year: In all the polls, the consensus Democratic Establishment candidate, former U.S. Attorney Doug Jones, is badly trailing an unknown African-American businessman from Mobile with the fortunate name of Robert Kennedy Jr. It looks like Jones will at best need a runoff to gain the nomination, if, er, RFK — with no campaign staff, treasury, or so far, platform — doesn't win outright.
Yes, it could be a wild ride for Alabama this year.