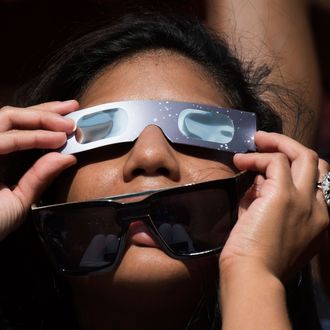 Not the glasses in question.
Photo: Don Emmert/AFP/Getty Images
When Corey Payne and Kayla Harris stared into the sun to watch the solar eclipse earlier this month, they thought they were totally safe. Both were wearing a pair of protective glasses purchased on Amazon at the beginning of August. But hours later, Reuters reports, the couple began to think something might be wrong. They each had headaches and watery vision, and several days later their vision had become blurry and distorted, Reuters also reports. Now, Payne and Harris are suing Amazon over the glasses they thought would protect them from the very eye damage they allegedly sustained.
The suit was filed on Tuesday in South Carolina. On August 10, Amazon issued a recall on all eclipse glasses the company couldn't verify were NASA-approved and thus might not be safe to use. It seems like Payne and Harris's glasses might have fallen into that category, but they claim to have never received any information telling them not to use the glasses. Select All has reached out to Amazon for comment and will update this post if we hear back. It's unclear if using the defective glasses was a better or worse move than Trump just opting to forgo the glasses altogether and briefly stare at the eclipse with his naked eyes.