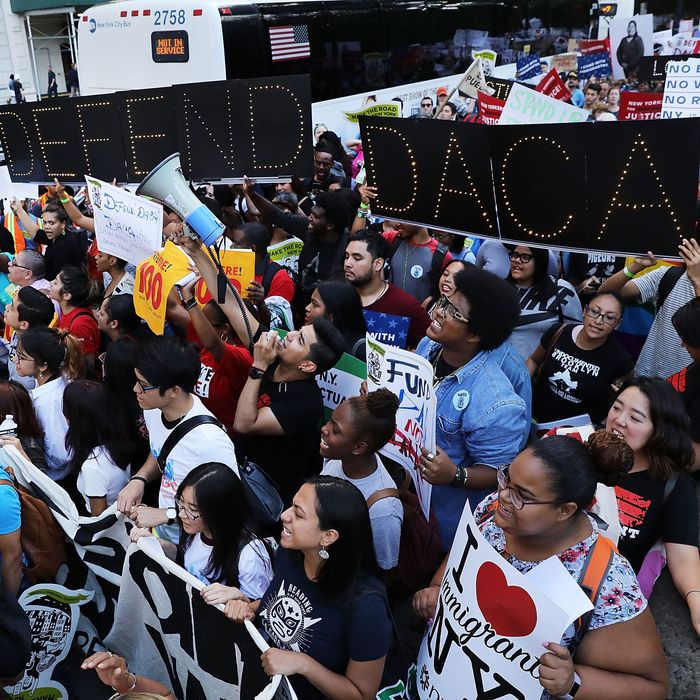 While the president is expected to make a decision on DACA in the next few days, a broader immigration deal could change everything.
Photo: Spencer Platt/Getty Images
With an ultimatum from Republican state attorneys general about to run out, multiple reports indicate that the president will tomorrow announce the end of the Deferred Action for Childhood Arrivals program, which protects around 800,000 Dreamers (young people brought into the country illegally as children who meet various criteria indicating exemplary behavior) from prosecution. According to McClatchy, which has the most thorough initial account, Trump will end new DACA designations and renewals, which means current DACA enrollees will be protected from prosecution until their two-year work permits run out (which will happen at varying times over the next two years depending on when they were issued). Several hundred thousand more DACA-eligible immigrants will be out of luck for the time being.
The timing isn't ideal, with Trump trying to show a compassionate side in the wake of the disaster in Houston, where an estimated 68,000 DACA-eligible immigrants live. You could say the same of Texas attorney general Ken Paxton, the ringleader of the group threatening to haul DACA before the same unfriendly Texas federal judge who stopped Barack Obama's effort to expand DACA and also provide protection for the parents of Dreamers. But with just six days to go before the September 5 deadline Paxton's group set for Trump to act, the White House apparently decided to act.
Details aside, ending DACA could curdle an already sour relationship between Trump and key elements of the business community, who might otherwise be drooling over the prospect of corporate tax cuts. As Mike Allen of Axios puts it:
Trump has faced an escalating revolt from CEOs — starting with the Muslim ban, increasing with his climate-change decision, and peaking with his handling of Charlottesville. Scores of high profile CEOs would pummel him publicly if he clears the way for mass deportation of kids.
But Trump's nativist base proved to be a more compelling factor. Breitbart News sneered at CEO pleas to save DACA with this headline: "'Masters of the Universe' Beg Donald Trump to Save DACA Amnesty." With Trump quite possibly on the brink of abandoning a threat to shut down the government if he doesn't get border-wall funding, another immigration-related disappointment could cause some heartburn in the base.
In the broader scheme of things, however, DACA could be a bargaining chip in a deal that includes not only border-wall funding but restrictions on legal immigration and other nativist priorities. Congress—and Congress alone—can provide a permanent resolution of the plight of Dreamers (whose very moniker, after all, was created by a never-enacted bill called the DREAM Act, which refers to Development, Relief, and Education for Alien Minors). Trump's decision to slowly kill DACA instead of exposing the entire eligible population to the possibility of immediate deportation (not that the federal government has the resources to do that anyway) seems highly compatible with a strategy of making a deal that doesn't look like a flip-flop.