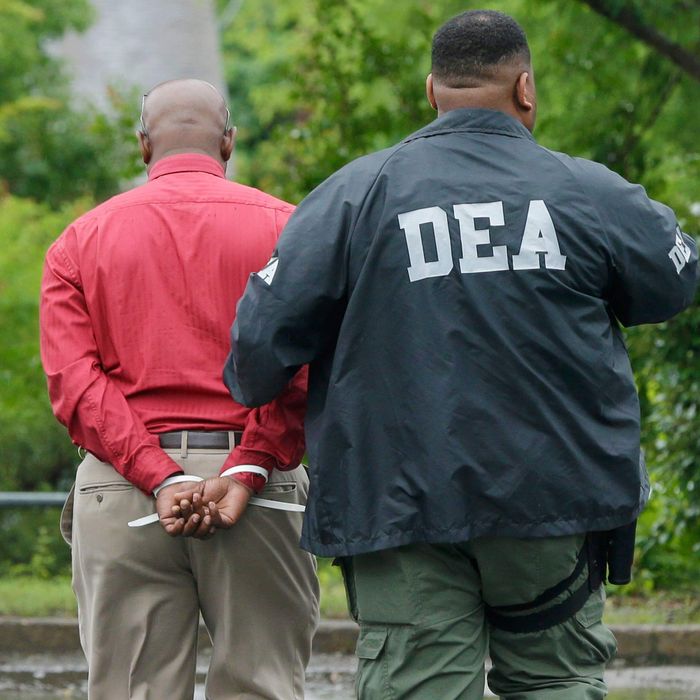 DEA agents not taking Trump's advice.
Photo: Danny Johnston/AP
When President Trump told a crowd of police officers last week to be rougher when arresting suspects, he was greeted with cheers and laughter. Chuck Rosenberg, the acting head of the Drug Enforcement Administration, had a far different reaction to Trump's endorsement of police brutality. And he told agents about it in an email over the weekend.
"The President, in remarks delivered yesterday in New York, condoned police misconduct regarding the treatment of individuals placed under arrest by law enforcement," he wrote. "I write because we have an obligation to speak out when something is wrong. That's what law enforcement officers do. That's what you do."
He went on to list "core values" that DEA agents should abide by, including "integrity," "accountability," and "rule of law." Then he added: "This is how we conduct ourselves. This is how we treat those whom we encounter in our work: victims, witnesses, subjects, and defendants. This is who we are."
According to White House Press Secretary Sarah Huckabee Sanders, Rosenberg should have been laughing at Trump's comments, not sneering. "I believe he was making a joke at the time," Sanders said Monday.
On Tuesday, she continued to insist there was nothing to Trump's remarks. "I think you guys are … .trying to make something out of nothing," she said. Asked about Rosenberg's email, she said, "It wasn't a directive. It was a joke. There's a very big difference."
With Trump though, no one really knows. Take his seemingly clear ban, issued via tweet, on transgender people in the military. Despite having the appearance of what Sanders calls a "directive," the Trump administration has done little to make that ban a reality. And like Trump's "joke" to the police officers, it's getting pushback from a person in power. On Tuesday, Coast Guard Commandant Paul Zukunft came out against it, saying he "will not break faith" with transgender troops.
Speaking at a Washington think tank, Zukunft said one of his first calls after seeing Trump's tweets was to an openly transgender troop. "I told Taylor I will not turn my back," he said, referring to Coast Guard Lieutenant Taylor Miller. "We have made an investment in you and you have made an investment in the Coast Guard, and I will not break faith."