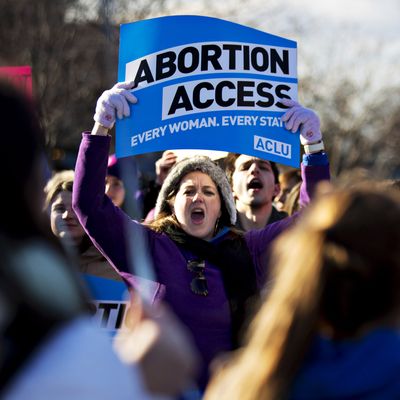 Believe it or not, men, reproductive rights are kinda personal to women!
Photo: Andrew Harrer/Bloomberg via Getty Images
Earlier this week Ben Ray Luján, the chairman of the Democratic Congressional Campaign Committee (the fundraising wing of the House Democratic Caucus) touched a chronically sore point with the vast majority of Democrats who are pro-choice:
Democrats will not withhold financial support for candidates who oppose abortion rights, the chairman of the party's campaign arm in the House said in an interview with The Hill …




"There is not a litmus test for Democratic candidates," said Luján, Democratic Congressional Campaign Committee chairman. "As we look at candidates across the country, you need to make sure you have candidates that fit the district, that can win in these districts across America."
Luján's initial mistake, I would argue, was in framing the question as a matter of "litmus tests." Unlike their counterparts in many other countries, America's major political parties don't have formal membership protocols, much less binding "tests" of what is or isn't a common position on controversial topics. When it comes to candidates, the national party — and for that matter, state parties, in most cases — has no control over who calls her- or himself a "Democrat"; that's the job of party primary voters.
The DCCC does make decisions every day about how to use its financial resources to maximize the number of House Democrats, and would probably cheerfully funnel money to a Koch brother if it added a vote to Nancy Pelosi's column in the next House balloting for Speaker. Confusing that hammer-headed perspective with some sort of official pronouncement on the relative importance — or nonimportance — of reproductive rights is a bad idea from the get-go.
But as some of Luján's critics immediately noted, it is not a good thing that a commitment to reproductive rights is often so high on the list of progressive principles Democratic officials seem willing to throw over the side in the pursuit of electoral victory — or as Luján put it, creating a "big family in order to win the House back." Would anyone go out of their way to suggest, for example, that Democrats are happy to find and back candidates who oppose progressive taxation or want to radically reduce immigration? How about opponents of Social Security or of civil rights? Why is the right to choose so disposable?
It's not a matter of intra-party democracy. According to the most recent Pew survey of how Americans feel on the basic matter of whether abortion should be mostly legal or mostly illegal, self-identified Democrats are pro-choice by a 79/18 margin. Pew also finds that Democrats oppose overturning a constitutional right to choose by an even larger 84/14 margin — an opposition that has been in every Democratic national platform since 1976, just as overturning Roe v. Wade has been a staple in Republican national platforms since the same year. No one is stopping individual Democrats, including candidates, from dissenting from that long-established consensus position. But the implicit encouragement of heterodoxy on abortion policy that Luján (like other party leaders) offers cannot help to be maddening to the many millions of Democratic women for whom this is a question of basic personal rights, not some policy preference. That this suggestion came from a man makes it even worse.
Political parties inevitably encompass multiple views on multiple things. But some are more fundamental than others, touching on values and mutual respect. In my pre-journalism career, I used to conduct a "value-based message" training for elected officials that made a big deal out of distinguishing between values and broad policy goals on which unity is critical, and programs or initiatives where diversity is not only tolerable but optimal. The conviction that women should have control of their reproductive health is clearly a value; protecting it is also clearly a policy goal. Exactly how to do that is another matter, and I don't think any pro-choice Democrats are insisting on uniformity as to the details of abortion policy.
If Democrats continue, as they probably will, to argue about this topic, there is another level of self-discipline that Democratic men should exercise. The most appropriate slogan for progressive men is the one the late Dr. George Tiller adhered to, right up until the time he was murdered during Sunday services at his own church: "Trust women." And if you can't bring yourself to trust them with decisions over their own bodies, Democratic men, at least respect them enough to keep your own counsel about it.