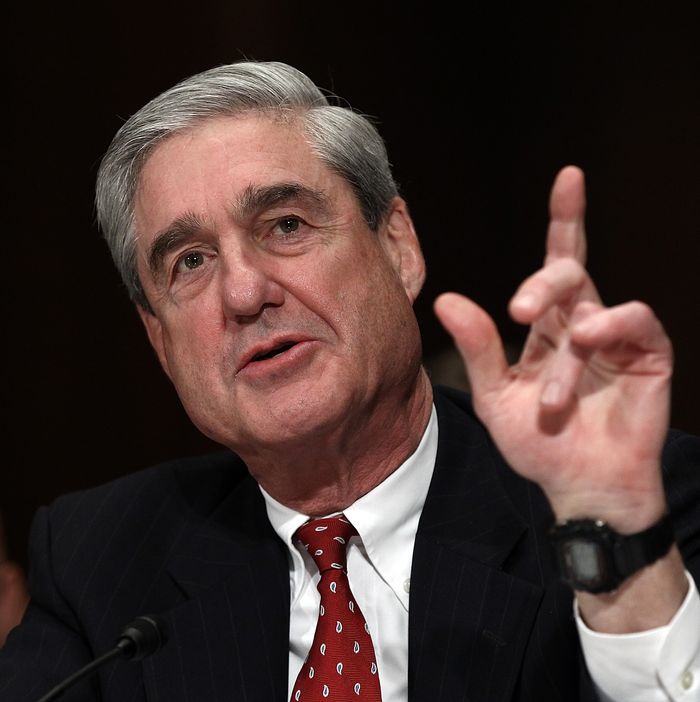 Mueller, who Trump has somehow yet to nickname.
Photo: Win McNamee/Getty Images
President Trump's chief counsel John Dowd claimed on Tuesday that special counsel Robert Mueller's job was never in jeopardy, though several weeks ago Trump launched a very obvious effort to discredit the former FBI director and his team. Trump publicly attacked the prosecutors leading the Russia probe for their rampant conflicts of interest, apparently because that's one of the reasons they can be fired under Justice Department regulations.
The most serious accusations leveled by Trump and his associates involved a prosecutor representing the Clinton Foundation, and several others contributing to Democrats (which is allowed under Justice Department regulations). It was also suggested that Mueller got into a dispute over membership fees when he resigned as a members of one of Trump's golf clubs back in 2011 (Mueller denies this).
On Tuesday, the financial disclosures for Trump and seven of his associates were made public, and so far the biggest revelation is that they walked away from a lot of money when they agreed to join the Russia investigation. Per the Washington Post:
The documents show that several lawyers on the team, particularly those who came from the private sector, left behind substantial salaries to work on the Russia case. James L. Quarles III, who left WilmerHale with Mueller, drew more than $5.8 million from his partnership there. Jeannie Rhee, another partner, drew more than $2 million, and Aaron Zebley, who was Mueller's chief of staff at the FBI and also worked with him at WilmerHale, drew more than $1.4 million.
Mueller left a law firm partnership at WilmerHale, where he made nearly $3.5 million since the beginning of 2016. His clients included many top companies, including Facebook, Apple, Intel, Sony Pictures, Booz Allen Hamilton, and the National Football League. Much of that work was already publicly known, and as Politico notes, each of the disclosure forms includes a note from top Justice Department ethics official Cynthia Shaw that says she found "No apparent conflicts of interest."
That probably won't stop the president from attacking the prosecutors for their business conflicts, should he have another change of heart.