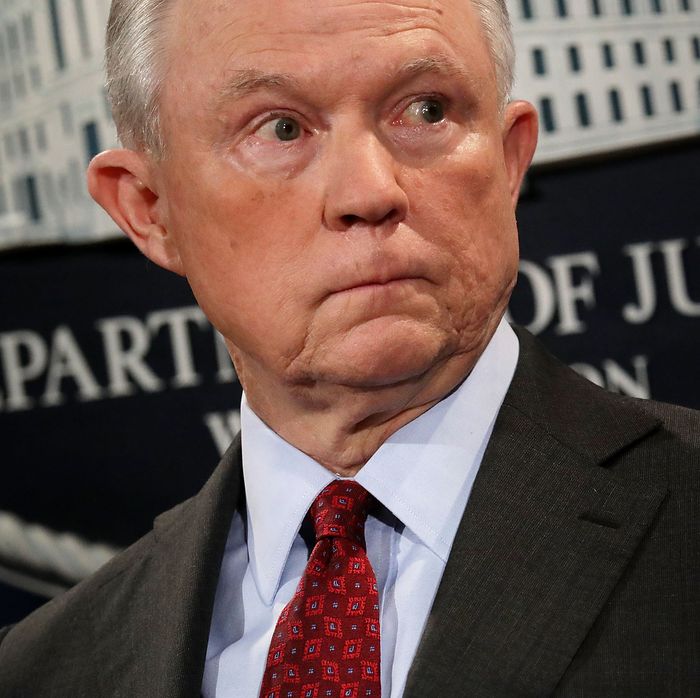 Presidential taunts can't keep Attorney General Jeff Sessions down.
Photo: Chip Somodevilla/Getty Images
It appears Attorney General Jeff Sessions has survived President Trump's attempt to publicly bully him out of a job (for now at least), and the Justice Department is eager to show it's still hard at work on the most serious issues facing America — like preventing gay people from enjoying the protections of the Civil Rights Act of 1964, and now going after colleges and universities for admissions policies that discriminate against white people.
The New York Times obtained an internal Justice Department announcement seeking lawyers interested in a project on "investigations and possible litigation related to intentional race-based discrimination in college and university admissions." The document does not explicitly say which groups are considered at risk for discrimination, but it's widely understood that the Justice Department intends to go after affirmative-action policies which aim to bring more minority students to campus.
The project will redirect resources from the department's civil-rights division. Rather than being run by the division's Educational Opportunities Section, which is staffed by career civil servants, it will be based out of the division's front office, where Trump political appointees work. Two sources tell the Washington Post that Trump appointees will be running the project because the career staffers who specialize in education issues refused, saying it's a violation of the department's long-term stance on civil rights in school admissions.
While some welcomed the news, Anurima Bhargava, who ran the Educational Opportunities Section under the Obama administration, described it as a "scare tactic." She told the Post, "The goal here is to drum up a bunch of fear and intimidate schools who are trying to provide a pipeline to leadership for all Americans."
The Supreme Court has ruled that race can be one factor schools use to evaluate applicants because they have an interest in maintaining a diverse student body. The court narrowly upheld that view in a 2016 case involving the University of Texas at Austin, but there are other pending lawsuits on affirmative action, including two alleging that admissions practices at Harvard and the University of North Carolina discriminate against Asian-Americans.