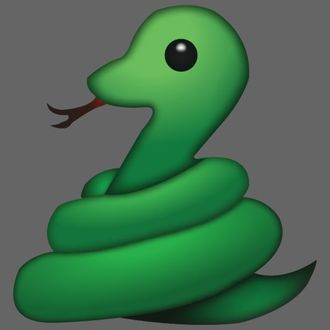 Following a series of cryptic teasers featuring a snake, yesterday Taylor Swift announced that her newest album, Reputation, will drop on November 10. (Actually, it was following a series of teasers and a stan on ATRL.net who found the album name and art through a glitch on Swift's website, likely forcing Team Swift to release the details ahead of their initial plan.) The first single, an as-yet-named track that is allegedly 8:47 long, will be released later today.
On Twitter, there's plenty of hype for Swift's new album. It just looks a little different than it did several years back when Swift announced the release of 1989. Back then, Swift was living in a pre–Kim Kardashian West receipts economy. It was all Raised Hands emoji and Heart Eyes emoji for her. It would still be years before she'd act faux-horrified at having been named in Kanye West's "Famous," only to have West's wife, Kim, share video evidence on Snapchat that Taylor had known about the lyric and discussed it with West in advance. Instead of the sweet and neutral emoji people used to talk about 1989, reactions to this album are wide-eyed and, well, snakish. (Emoji data courtesy of Siobhan Murphy, who works for Twitter.)
It's likely that the popularity of the snake emoji was impacted by Swift's use of a snake in her own promotional materials. (Following last year's drama with Kim and Kanye, as well as with Calvin Harris, people started emoji-bombing Swift's Instagram with snakes, prompting Instagram to delete them.) But don't be fooled. That's exactly what Taylor wants you to think.