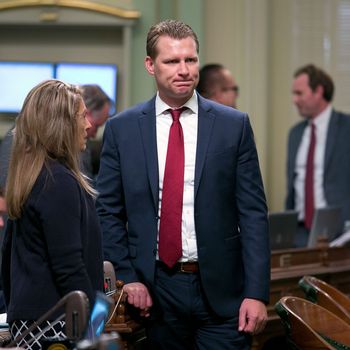 The GOP leader in the California Assembly, Chad Mayes, is fighting off a conservative purge campaign.
Photo: Rich Pedroncelli/AP
These are tough times to be a Republican in California. Last year Donald Trump won the lowest percentage of the presidential vote any Republican has registered since 1912, when GOP nominee William Howard Taft was denied a ballot spot (Progressive candidate Theodore Roosevelt narrowly defeated Democrat Woodrow Wilson). That's right: Famous Republican losers like Alf Landon and Barry Goldwater won a higher percentage of the vote than Trump did.
Democrats enjoy supermajorities in both chambers of the state legislature, and a 39–14 margin in U.S. House seats. All statewide constitutional officers are Democrats. One U.S. Senate seat was last held by Republicans in 1992, and the other in 1968. In the most recent "top two" primary that promotes candidates to the general election regardless of party (an innovation, by the way, sponsored by the last GOP governor and lieutenant governor of the state), no Republican made the cut for the open U.S. Senate seat. The GOP percentage of registered voters has now sunk to a dismal 25.9 percent, nearly 20 percent below the Democratic share.
You'd think, given this environment, that California Republicans would be retooling their message in order to appeal to their state, and that, indeed, is what California Assembly GOP Leader Chad Mayes has been doing. Here's how he most recently described his party's challenge:
Republicans have a choice: We can remain in a state of denial and continue to lose elections, influence and relevance, or we can move forward boldly to articulate and apply our principles in a way that resonates with a changing California. To me, the choice is clear.




As Assembly Republican leader, I have built genuine relationships with groups that we have ignored for decades, championed policies that reach out to nontraditional Republican groups, and communicated more broadly than any Republican leader in the last generation.
But one of Mayes's outreach efforts has spawned a conservative revolt, and demonstrated once again that Republicans in this and many other states would rather be "right" ideologically than take political risks. Taking the advice of most California business leaders — not to mention big majorities in the polls — Mayes led a small group of Assembly Republicans in July into a deal to support extension of the state's landmark cap-and-trade system for addressing greenhouse-gas emissions.
Almost exactly a month later, the board of the state Republican Party took the unusual step of calling for Mayes to step down as Assembly leader.
Harmeet Dhillon, one of two of the state's representatives to the Republican National Committee, said Mayes had failed to protect "the integrity of the party's position on taxation and overregulation in California."




Thirteen members of the party board, including Chairman Jim Brulte, voted in favor of the motion calling on the Yucca Valley Republican to resign as caucus leader. Seven voted against, and there was one abstention.
Only the GOP Assembly Caucus has the power to remove Mayes as leader, and late yesterday he survived a no-confidence motion, which failed by three votes. But challenges to him will continue.
Why are California conservatives engaging in a purge effort when their party is so weak? Well, that's what ideologues do, of course; left or right (though especially the latter), they believe fidelity to the Cause is always the key to electoral success, and more valuable than electoral success in the final analysis. And there is, of course, a legacy of hard-core conservatism in the state that dates back at least to Barry Goldwater's nomination-clinching win over Nelson Rockefeller in the 1964 California primary. One of the key figures in that Goldwater campaign, Ronald Reagan, went on to serve two terms as governor and then to embody the culmination of the conservative movement's long drive to power by becoming president. His many compromises with principle and with the hated Democratic opposition in both Sacramento and Washington have long been forgotten or ignored by those who burn candles to his memory.
More immediately, many California Republicans, like their counterparts in other states, fear the wrath of the "base" voters who have become fiercely loyal to the culture warrior and media basher in the White House. The leading GOP candidates for governor in 2018 — who will be struggling to achieve a general-election spot in a field dominated by well-funded Democrats like Gavin Newsom, John Chiang, and Antonio Villaraigosa — are lining up to pledge allegiance to Donald Trump, the least popular GOP presidential candidate in more than a century. It's not like Trump is getting some sort of strange second wind of popularity in the Golden State: According to Gallup, his most recent job-approval rating in California was at 30 percent, a bit below his 2016 electoral share.
It's a sad state of affairs for the party that won nine of ten presidential elections in California from 1952 through 1988. Obviously the state's demographics have changed massively since those days, and the California GOP's reputation as a "white" and anti-immigrant party has been especially damaging in a state that now has (according to the 2016 exit polls) a nonwhite majority of voters. Rallying around Donald Trump seems an unlikely first step toward a GOP revival.
California Republicans aren't alone in experiencing internecine warfare, however. The Clinton–Sanders primary fight was especially savage in the Golden State, and has spilled over into an endless battle over the state party chairmanship. The candidate of the Berniecrats, Kimberly Ellis, seems to have narrowly lost to a more conventional pol Clinton supporter, Eric Bauman. But having exhausted internal challenges based on allegations of a "rigged" process, Ellis is now threatening litigation. And there is a parallel fight among California Democrats over single-payer health-care legislation.
The 2018 midterms in California could be even wilder than usual. But make no mistake: The GOP is in the greatest peril of disaster.