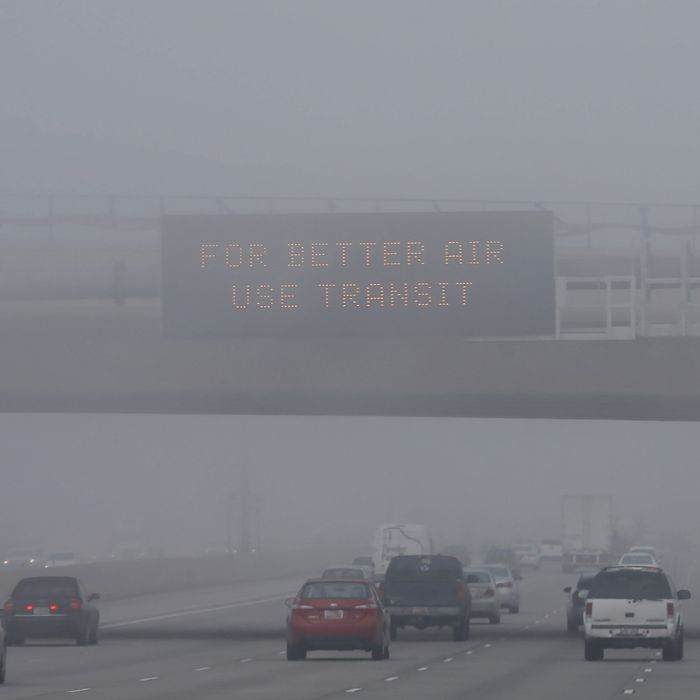 Utah.
Photo: George Frey/Bloomberg via Getty Images
The EPA on Wednesday reversed its decision to delay the implementation of an Obama-era clean-air rule after lawsuits from 15 states. The delay, which EPA head Scott Pruitt announced in June, would have pushed back by one year requirements to reduce ground-level ozone. At the time of the decision, Pruitt said that the EPA would spend that time figuring out how to "effectively implement the ozone standard" without "impeding economic growth."
But that delay inspired considerable pushback from attorneys general in 15 states, who sued, alleging that delaying the rules violated the Clean Air Act. "By illegally blocking these vital clean air protections, Administrator Pruitt is endangering the health and safety of millions — but Attorneys General have made clear: we won't hesitate to fight back to protect our residents and our states," New York attorney general Eric Schneiderman said in a statement.
Ground-level ozone is a particularly nasty form of air pollution that has been linked to asthma, and heart and lung disease. It's produced when common pollutants from cars, power plants, and factories combine with sunlight. The 2015 rule forces states to have reduced ozone levels to 70 parts per billion by October 1 of this year.
In his announcement of the EPA's reversal, Pruitt, Oklahoma's former attorney general and a staunch ally of the energy industry, said he reserves the right to delay other rules in the future.
But he would no doubt prefer that Congress just do the job for him. The House has already passed a resolution that would delay the ozone regulations not just by one year, but by eight years. It arrived in the Senate two weeks ago.