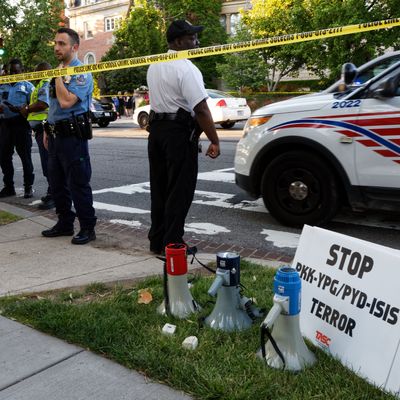 Police secure the street outside the Turkish embassy during a visit by Turkish president Recep Tayyip Erdogan on May 16, 2017, in Washington, D.C.
Photo: DAVE CLARK/AFP/Getty Images
Just a few hours after President Trump's White House meeting with Turkish president Recep Tayyip Erdogan in May, a brawl broke out on Washington's Embassy Row. Video showed men in black suits viciously beating protesters as police used batons to drive off the attackers, and Erdogan looked on. Nine people were hospitalized following the attack.
On Tuesday, 19 people, including 15 Turkish security officials, were indicted by a grand jury in D.C. for the May 16 incident. According to the AP, all 19 have been charged with conspiracy to commit a crime of violence, which carries a maximum sentence of 15 years in prison. Several have also been charged with assault with a deadly weapon.
Two of the defendants, who appear to be civilian Erdogan supporters, were arrested in June. Members of Erdogan's security detail have already returned to Turkey. There's little chance that they'll be extradited, but they could be arrested if they return to the United States.
The indictment described the attackers as "pro-Erdogan civilian supporters, Turkish security personnel, and staff members from the Turkish diplomatic delegation," and says the peaceful protesters were mostly advocates for Kurdish independence. Turkey's state news agency disputed this back in May, claiming that Erdogan's guards were forced to take on the protesters because they were "aggressively provoking Turkish-American citizens who had peacefully assembled to greet the president."
President Trump has repeatedly praised Erdogan, even as Erdogan has moved to strengthen his autocratic hold on Turkey. The Trump administration condemned the attack via a statement from the State Department.
"We are concerned by the violent incidents involving protestors and Turkish security personnel Tuesday evening. Violence is never an appropriate response to free speech, and we support the rights of people everywhere to free expression and peaceful protest," the State Department said. "We are communicating our concern to the Turkish government in the strongest possible terms."