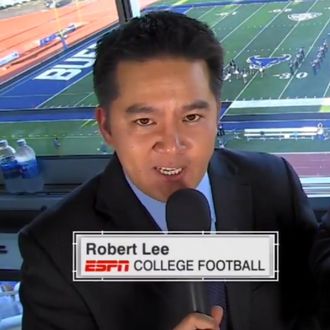 Robert Lee, with no E.
Photo: ESPN
ESPN reassigned a college football announcer named Robert Lee from the University of Virginia's season-opening game because he shares a name with the Confederacy's most famous general, the network confirmed Tuesday. Instead of calling UVA's game against William & Mary, Lee will instead work Pitt versus Youngstown State. In a statement, ESPN said it's "because of the coincidence of his name."
The statement added that executives and Lee made the decision together "as the tragic events in Charlottesville were unfolding," a reference to the deadly neo-Nazi rally on August 12.
"In that moment it felt right to all parties," ESPN said. "It's a shame that this is even a topic of conversation and we regret that who calls play-by-play for a football game has become an issue."
It only became an issue because Clay Travis, a conservative sports blogger and staunch defender of Confederate statues, published a story on the move Tuesday. In his screed, Travis says "MSESPN," a confusing nickname that's apparently supposed to link ESPN to MSNBC, pulled Lee from the UVA broadcast "to avoid offending left wing idiots."
In a statement to reporter Yashar Ali, an ESPN executive said the move had nothing to do with "offending anyone" and was more about shielding Lee from the "meme/joke possibility."
Separately, an anonymous executive told USA Today that the network feared ridicule by sites like Awful Announcing and Deadspin.
It's a believable explanation that makes more sense than ESPN fearing liberals. It would make even more sense if the UVA game weren't going to be relegated to ESPN's streaming platform where only the most die-hard fans would watch one of the worst power five teams in the country. In its haste to avoid becoming the target of dumb jokes by sports bloggers, ESPN has created a full-blown controversy for Travis, Matt Drudge, and Breitbart News, among other right-wing thought leaders. As for Deadspin, it's making fun of the network anyway.