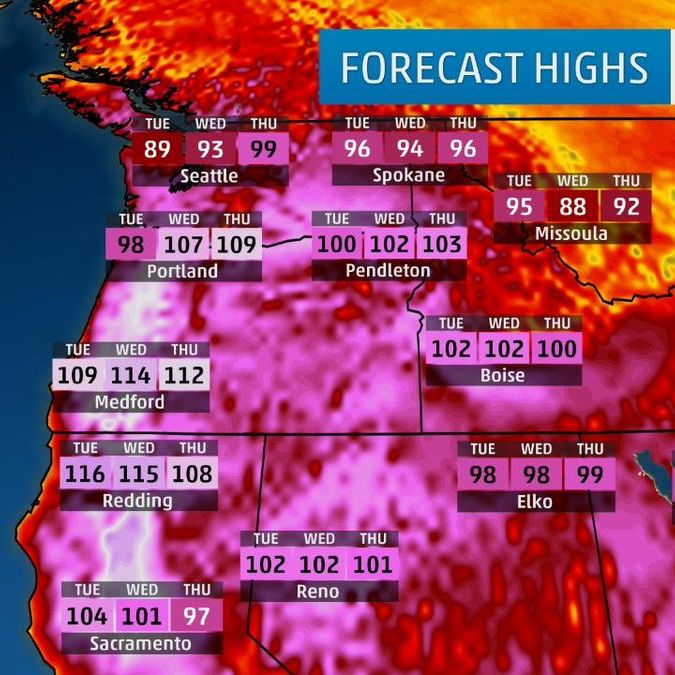 Looks fun.
Photo: The Weather Channel
Forecasters predicted that temperatures near Portland, Oregon, could stretch past a scorching 105 degrees on Thursday. Seattle, Washington, is bracing for highs the 90s, which is actually a bit of a respite from the 100-degree day that was first forecast — and which would have been just the fourth triple-digit day in more than a century. Those cities, and much of the Pacific Northwest, are in the third — and likely worst — day of a blistering heat wave that has slammed cities that usually escape the worst of the summer swelter.
The National Weather Service has issued excessive heat warnings for Oregon and parts of western Washington until Friday evening, with temperatures in the region about 20 to 30 degrees above normal for this time of year. Heat records have been shattered in those two states; Medford, Oregon, clocked in at 112 degrees on Wednesday. In Seattle, only about one-third of people even have air-conditioning. In Portland, the light rail is operating at slower speeds because of fears the tracks will expand in the heat and cause derailments.
An element making this extreme weather more extreme: haze blowing in from wildfires blazing in British Columbia, Canada. Officials have downgraded air quality to "unhealthy" levels in some areas because of the smog. The haze has tamped down the temperatures slightly by acting like cloud cover to shield the sun, though being outside is potentially dangerous for people who suffer from health problems such as asthma. Indeed, the smoke from the fires in British Columbia is so thick, it's showing up on satellite imagery.
The heat wave is increasing the risk that wildfires will break out across the region, too. Oregon governor Kay Brown declared a state of emergency on Wednesday because of the threat of fires, and crews are already trying to put out a few blazes across the state.
The hazy conditions will stick around western Washington and Oregon through midweek, and temperatures in the region are expected to dip slightly this weekend — though still above the seasonal average. And if the Pacific Northwest heat wave has you freaked out, best to ignore the news that, this July, Death Valley just broke the record for hottest month ever recorded in the United States.