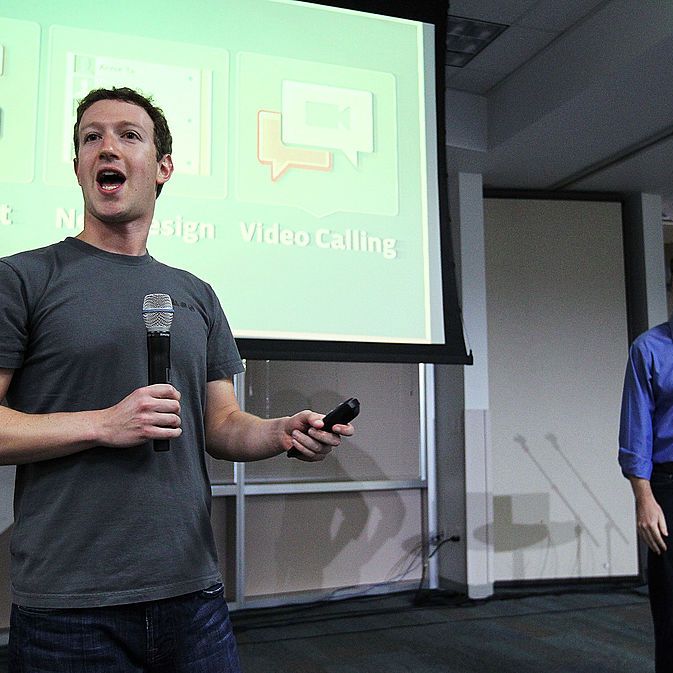 Mark Zuckerberg unveils Facebook video chat at a press conference in 2011.
Photo: Justin Sullivan/Getty Images
Love to video chat with your Facebook friends? Love it enough to get a specialized piece of hardware just for that? If so, you may be in luck.
According to Mark Gurman at Bloomberg, Facebook is working on a device that will be devoted to video chat, powered by a Facebook personal assistant that the company is still developing. The device, which could be unveiled as soon as next spring's F8 developer conference, would feature a wide-angle camera lens, microphones, speakers, and touch screen "between 13 and 15 inches diagonally."
This would make for a much larger screen than the Amazon Echo Show, which is seven inches diagonally. It could also solve one of the biggest problems of video-calling someone on Amazon Echo Show, which is, there aren't many people to talk to. Presumably the device would be able to make video calls to any Facebook friend with a phone or laptop. It would retail for "a few hundred dollars" — which would potentially put it somewhere in the range of Apple's HomePod ($349) or Amazon's Echo Show ($230).
Gurman also reports that Facebook is working on its own smart speaker to compete with the Amazon Echo (and the host of other smart speakers headed to market), which Gurman reports would sell in "the low $100 range" — lower than other speakers on the market. But "because the speaker concept has already been popularized … Facebook could abandon it and prioritize the video chat device instead."
Facebook's consumer-hardware efforts have had a spotty track record. The company attempted to enter the smartphone market in 2013 with the HTC First, which used a re-skinned version of the Android OS to make Facebook the centerpiece. The phone was a quick failure in the marketplace. Its biggest hardware release to date is the Oculus Rift headset, but that wasn't developed internally within Facebook — it was acquired when Facebook bought Oculus for $2 billion in 2014.
In 2016, Facebook recruited Regina Dugan, a former director of DARPA, from Google, to help run its new Building 8 division, dedicated to building out hardware designed specifically for Facebook. The video-chat device would be its first official product release.