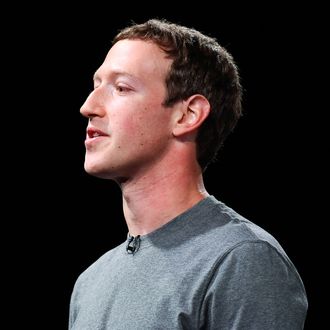 Mark Zuckerberg.
Photo: David Ramos/Getty Images
Every few weeks, Facebook comes out with a new statement about fake news, the gist of which is, "Just trust us, we're working on it." Guess what? It's time again. This morning, the company announced that it was rolling out a Related Articles feature to highlight varying outlets' coverage of certain stories and topics.
A version of this has been around for some time, though for much of its life, the related stories only appeared after a user had clicked on a link in their News Feed. Now, those links will be shown preemptively. The feature was tested over the spring and is rolling out more broadly.
As with any announcement on this topic from Facebook, the company has also decided to throw a few buzzwords out as well: "Now, we will start using updated machine learning to detect more potential hoaxes to send to third-party fact checkers. If an article has been reviewed by fact checkers, we may show the fact checking stories below the original post." So, they're using AI to figure out if something might be a hoax, and then sending it to a real human to make the final determination.
"We don't want to be and are not the arbiters of the truth. The fact checkers can give the signal of whether a story is true or false," News Feed product manager Tessa Lyons told TechCrunch.
Is any of this working? Who knows? Facebook says it is, so you're just going to have to take its word for it.