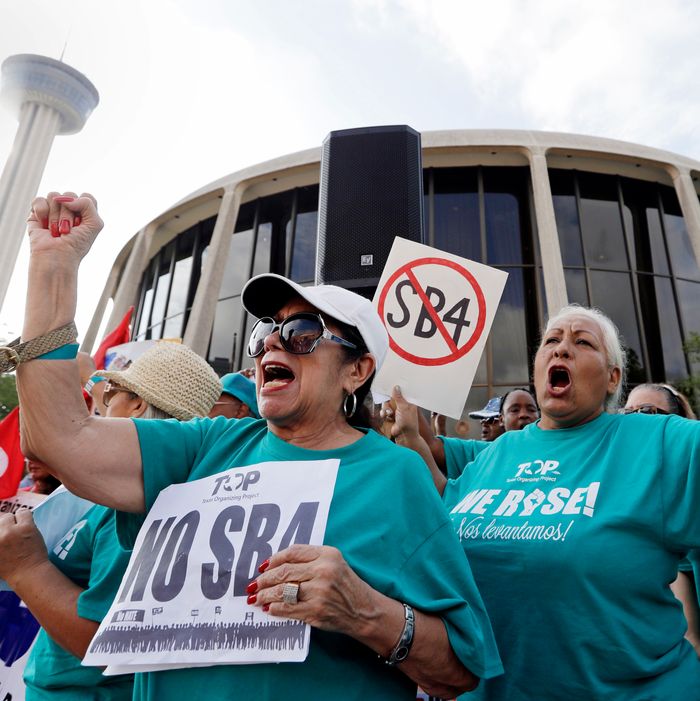 People protest Senate Bill 4 outside the federal courthouse in San Antonio on June 26, 2017.
Photo: Eric Gay/AP
A federal judge in Texas temporarily blocked the nation's most extreme anti–"sanctuary city" law on Wednesday, two days before it was set to take effect. The preliminary injunction is a setback for the state's Republican leaders, as well as the Trump administration's crackdown on sanctuary cities.
Senate Bill 4, which Texas governor Greg Abbott signed into law in May, requires local law enforcement officials to comply with federal requests to detain people suspected of being in the country illegally. Those who fail to comply could be fined $25,500 a day, ejected from office, or jailed for up to a year. The law also allows law enforcement officials to ask about the immigration status of anyone they detain.
Several Texas cities — including Houston, San Antonio, Dallas, and Austin — sued to stop the law, arguing that it could lead to racial profiling, make it difficult for local police to combat crime, and spark a backlash that would hurt the state's economy. The Trump administration's Justice Department has filed statements of interest siding with the state of Texas.
U.S. District Judge Orlando Garcia ruled that several parts of the law are likely to be found unconstitutional. He said a provision saying local authorities may not "adopt, enforce, or endorse" policies limiting the enforcement of immigration laws violates the officials' right to free speech.
"The government may disagree with certain viewpoints, but they cannot ban them just because they are inconsistent with the view that the government seeks to promote," Judge Garcia wrote. "SB 4 clearly targets and seeks to punish speakers based on their viewpoint on local immigration enforcement policy."
According to the Texas Tribune, Garcia did allow the provision that permits police officers to question people they detain on their immigration status. However, he said they can't use that information to arrest the person, they can only share it with the proper authorities.
Governor Abbott said the state will appeal, which would send the case to the U.S. Court of Appeals for the Fifth Circuit in New Orleans, one of the most conservative appeals panels in the country.
"Today's decision makes Texas' communities less safe," Abbott said. "Because of this ruling, gang members and dangerous criminals, like those who have been released by the Travis County Sheriff, will be set free to prey upon our communities. U.S. Supreme Court precedent for laws similar to Texas' law are firmly on our side. This decision will be appealed immediately and I am confident Texas' law will be found constitutional and ultimately be upheld."
Houston police chief Art Acevedo, a critic of the law, learned of the decision while in a shelter for victims of Hurricane Harvey. Acevedo high-fived another officer and said, "We needed a break. That's a break for us."