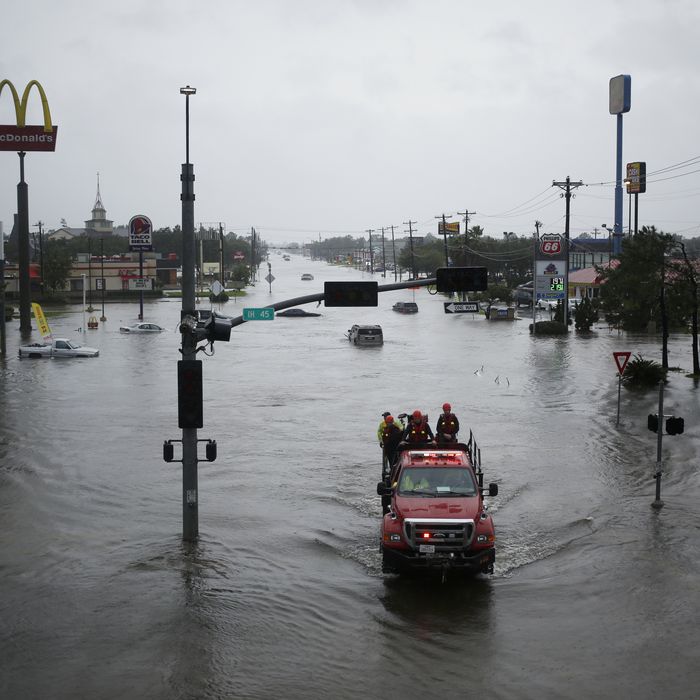 Rescue personnel drive through a flooded intersection in Dickinson, Texas, on Tuesday.
Photo: Luke Sharrett/Bloomberg via Getty Images
• Harvey made landfall again in Louisiana on Wednesday morning. Right now the storm is hammering eastern Texas and southwestern Louisiana. At least 30 inches of rain have been recorded near Port Arthur, Texas.
• The death toll is reportedly at 38, and it's expected to rise as search-and-rescue efforts continue.
• Texas Governor Greg Abbott has deployed 24,000 National Guard troops across the state to assist with rescue and recovery operations. About 10,000 troops are beings sent from other states. Louisiana Governor John Bel Edwards also deployed the National Guard to assist with the Harvey response.
• The skies cleared in Houston on Wednesday, and floodwaters began to recede in some areas.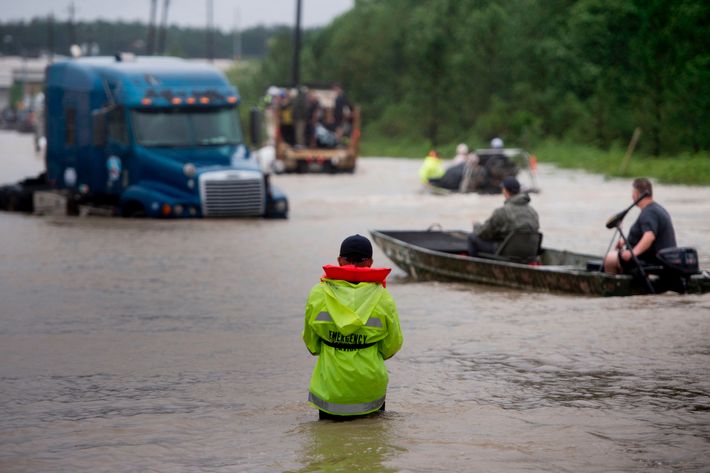 Tropical Storm Harvey broke the previous record for rainfall from a single storm anywhere in the contiguous U.S. on Tuesday, with a top reading of 51.88 inches of rain in Cedar Bayou, Texas. The previous record of 48 inches was set in Texas in 1978, and Harvey could still top the 52-inch record set in Hawaii in 1950.
Six days after first making landfall as a Category 4 hurricane, Harvey is finally set to let up on Houston. The National Weather Service is predicting less than an inch of rain for the city on Wednesday, and a 30 percent chance of showers on Thursday. Friday is expected to be sunny with a high near 94.
Flood levels also receded slightly in some of the hard-hit areas around Houston. "We have good news," said Jeff Lindner, a meteorologist with the Harris County Flood Control District, told the Associated Press. "The water levels are going down. And that's for the first time in several days." The sun even peeked out in Houston for the first time in days.
While Houston gets a desperately needed break, Harvey is moving northeast, hitting far-east Texas and southwestern Louisiana. Those areas are in for another 6 to 12 inches of rainfall. Harvey made landfall for a second time at 5 a.m on Wednesday morning, arriving just west of Cameron, Louisiana. The tropical storm is expected to weaken as it moves through Louisiana. From the NWS:
Elsewhere, Harvey is expected to produce total rainfall amounts of 5 to 10 inches across portions of southern Louisiana into coastal Mississippi and Alabama. Rainfall associated with Harvey will spread northward by mid to late week, with rainfall amounts of 4 to 8 inches spreading into portions of Arkansas and the Tennessee Valley.
Harvey is now pounding the area around Beaumont and Port Arthur, in eastern Texas, with close to 30 inches of rain already recorded. The National Weather Service continues to warn of "life-threatening flood waters" in these areas.
As in Houston, the water overtook neighborhoods rapidly in eastern Texas. The city of Port Arthur called on volunteers with boats and instructed residents to head to their roofs and wave "a white towel, sheet, or shirt" to alert rescuers.
Friends and family of some of the stranded went on social media to plead for assistance.
Hundreds took refuge at the Bob Bower Civic Center in Port Arthur, only to be flooded out, cots floating in the swampy water.
Downpours and flash flooding are also threatening Calcasieu Parish in southwest Louisiana. Approximately 500 people were evacuated from the parish's vulnerable areas.
State and local agencies said they — along with volunteers — have rescued more than 13,000 from floodwaters in Houston and the surrounding areas so far, and the effort will continue in the coming days.
"We're still trying to get to folks and again, like we said yesterday, don't give up on us, seek to higher ground — we will get to you," said Houston Police Chief Art Acevedo. "At every passing hour, we have more boats getting in the water."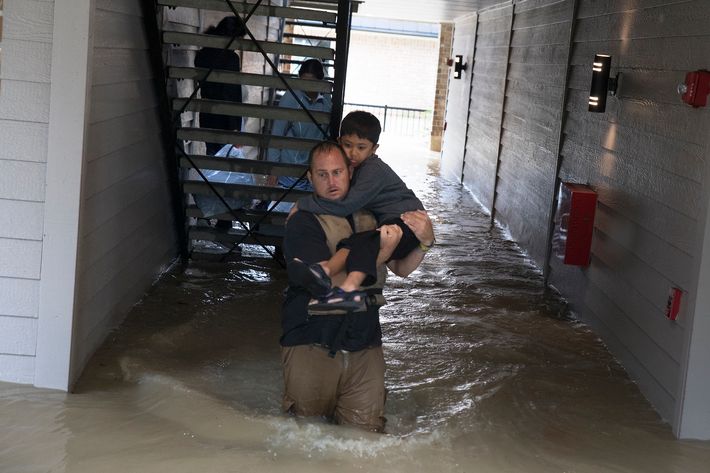 Houston mayor Sylvester Turner imposed a curfew from 10 p.m. Tuesday to 5 a.m. Wednesday following scattered reports of looting. He said the police had requested the curfew. "I don't want them to have to worry about someone breaking into their home, or looting, or doing anything of that nature while they are away," Turner said.
Governor Greg Abbott has activated the entire Texas National Guard and added support from out-of-state troops, putting a total of 24,000 guardsmen on the ground to assist with rescue and relief efforts.
President Donald Trump and First Lady Melania Trump visited Texas to survey the damage from Harvey on Tuesday afternoon. The Trumps avoided the hardest-hit areas, instead visiting a fire house near Corpus Christi, where they were joined by FEMA director Brock Long, Governor Abbott, and other Texas lawmakers. After a press conference, Trump addressed supporters outside the firehouse, telling them, "We love you, you are special, we're here to take care of you." He also remarked, "What a crowd, what a turnout."
Local officials say at least 38 people died as a result of the storm, up from eight a day ago. Houston police confirmed on Tuesday that Sergeant Steve Perez, 60, drowned in his patrol car on his way to work. Police Chief Art Acevedo said Perez's father-in-law had urged him not to go in because conditions were too bad, "And his response was, 'We've got work to do.'"
In Beaumont, Texas, authorities pulled a shivering toddler clinging to her drowned mother out of a flooded canal. A witness said the woman's car got stuck in a flooded parking lot and she was attempting to carry the 18-month-old girl to safety when a current swept the pair away. A rescue boat caught up to them just before they slipped under a railroad trestle, where they would have been unreachable. First responders were unable to revive the mother, but the girl has been hospitalized and is in stable condition.
According to the Harris County Institute of Forensic Sciences, other fatalities include 89-year-old Agnes Stanley, who was found in four-foot-deep water in a home, a 76-year-old woman found in floodwater near a vehicle, and 45-year-old Travis Lynn Callihan, who fell into floodwaters after leaving his vehicle and died after being taken to the hospital.
Tens of Thousands Displaced
At least 32,000 people woke up in in some 230 shelters across Texas on Tuesday, according to Abbott – about 2,000 more than originally estimated. Houston had initially limited its main shelter, the George R. Brown Convention Center, to 5,000 people, but it's already holding more than 9,000. Mayor Sylvester Turner said the city plans to open another two or three mega-shelters.
"We are not turning anyone away. But it does mean we need to expand our capabilities and our capacity," Turner said. "Relief is coming."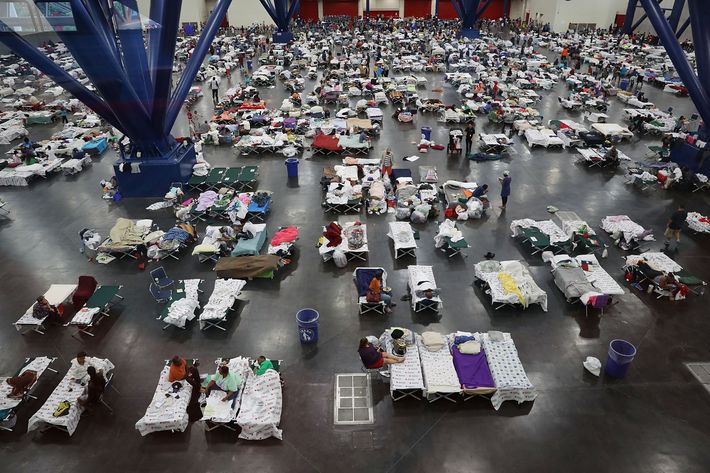 Just before midnight, people began arriving in Houston's second mega-shelter, the NRG Center, which can hold up to 10,000 people. Officials said there may be 2,000 people in the conference hall by sunrise.
Evacuees are also being taken in by inland cities like San Antonio, Austin, and Dallas, which opened a shelter for 5,000 people on Tuesday.
With conditions improving a bit, Turner said he wanted to see people out of shelters as soon as possible, and called on the federal government to quickly approve aid to flood victims. "I'm hoping that people at the federal level, at the very top, will understand this was catastrophic," Turner told reporters. "We just need the red tape to be cleared. All of us have to act with a degree of urgency."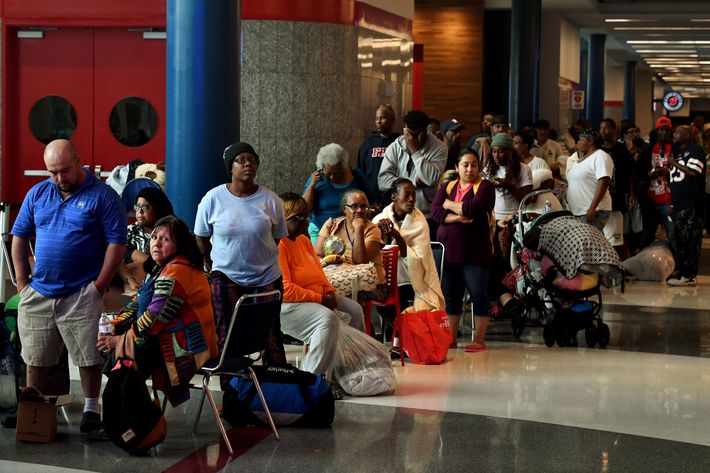 After Houston televangelist Joel Osteen faced accusations on social media that his church had closed its doors to storm victims, it was designated as a shelter on Tuesday. Busloads of people showed up to the church, which was formerly the 16,000-seat Compaq Center.
Lakewood Church spokesman Don Iloff said the building was never closed, but the building had flooded over the weekend and accepting droves of people then would have been unsafe.
Some residents of Crosby, a town outside Houston, also had to be quickly evacuated Wednesday because a chemical plant was on the verge of exploding. The Arkema North American plant took on about six feet of water, shutting down power in the facility and causing the backup generators to fail. "And as a result, critical refrigeration needed for our materials on site is lost," CEO Richard Rowe said Wednesday. "Materials could now explode and cause a subsequent and intense fire. The high water that exists on site, and the lack of power, leave us with no way to prevent it."
Houston officials warned that there are people impersonating Homeland Security Investigations special agents, going door to door and telling people to evacuate, presumably so they can rob their homes. Officials warned residents to ask to see agents' credentials, and said ICE is not conducting immigration enforcement operations in areas affected by Harvey.
It's too early to assess the damage caused by Harvey, but early estimates suggest it may be the costliest storm in U.S. history:
Roughly 25 to 30 percent of Harris County, where Houston and its near suburbs are located, was flooded by Tuesday afternoon, according to the Washington Post.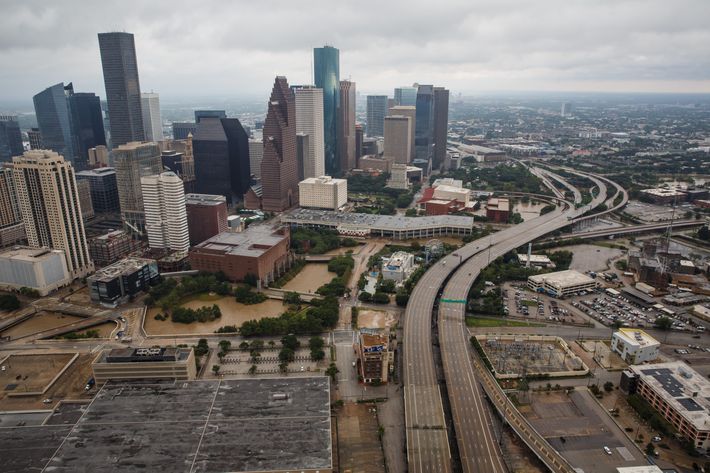 Though the storm's center is moving north, owing to the additional rain, flash-flooding will continue in the Houston area.
Two Houston reservoirs reached capacity Tuesday. The Addicks reservoir couldn't handle the overflow, and water poured over its spillway, inundating the surrounding neighborhood.
And the deluge continued in other areas. Kingwood, a planned community in northeast Houston, was still reeling from rising waters on Wednesday.
But it's not all bad news: Mayor Turner suggested that some parts of the city would be returning to normal. The Houston Airport began limited operations again Wednesday. The Houston Astros will also return return home this weekend, for a three-game series against the New York Mets.
Here's a guide to how you can help those affected by Harvey, from giving blood to donating money to organizations providing on-the-ground relief.
Harvey will make a slow departure out of the region by the end of the week, followed by a very long cleanup. But the National Hurricane Center has a quick reminder that hurricane season is far from over: