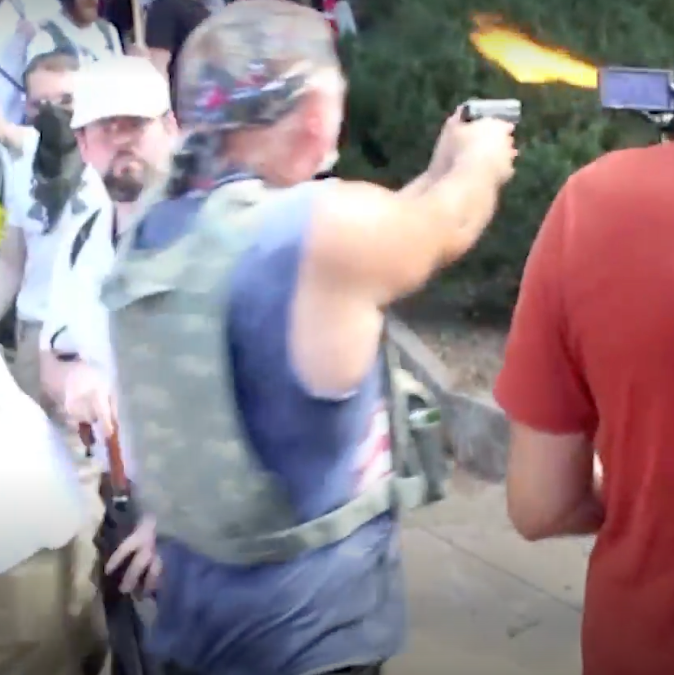 Photo: Screencap/NYT/ACLU of Virginia
Since the deadly white-nationalist rally in Charlottesville, Virginia, two weeks ago, one largely unanswered question has been why local police stood by for so long as rallygoers and protesters clashed in the streets. On Saturday, new video footage emerged adding another layer of urgency to the mystery.
In it, a white rallygoer is shown pointing a gun at a black protester holding an improvised flamethrower. The man yells, "Hey, n—er! Hey!" He then fires what appears to be a live round into a bush close to the protester and strolls away amid fellow marchers — just feet from a line of stationary police officers, who don't react at all:
The footage, surfaced by the ACLU of Virginia, was first reported by the New York Times, which published a detailed look at the sluggish police response to the violence. The Times reported that the man is in custody as of Saturday morning.
A spokesperson for the police claimed that officers couldn't hear the shot over the crowd noise, but Rosia Parker, a community activist at the rally, told the Times, "We all heard it and ran — I know damn well they heard it. They never moved."
The protester in the video, Corey Long, was immortalized in a now-famous photograph from the rally. He had previously told CNN's Don Lemon that a rallygoer had pointed a gun at him and fired a shot nearby.
The city of Charlottesville announced on Friday that it had hired Tim Heaphy, an ex–United States attorney, to evaluate its response to three white-nationalist rallies held there this summer. How the city reacted, or failed to react, to those events will be closely dissected as other places try to avoid a similar fate.