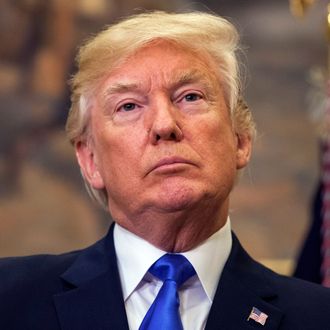 Donald Trump.
Photo: Zach Gibson - Pool/Getty Images
A week after being inaugurated — in front of some less-than-huge crowds — Trump made several calls to leaders around the world. Today, the Washington Post released transcripts from two of those calls, with Mexican president Enrique Peña Nieto and Australian prime minister Malcolm Turnbull. The transcripts are, uh, really something. "If you are going to say that Mexico is not going to pay for the wall, then I do not want to meet with you guys anymore because I cannot live with that," Trump told Peña Nieto, after requesting that Peña Nieto not tell the press that Mexico would not pay for a wall.
Perhaps the most memorable, or at the very least most meme-able, moment came from Trump's conversation with Turnbull. "I hate taking these people," Trump told Turnbull, speaking of refugees. "I guarantee you they are bad. That is why they are in prison right now. They are not going to be wonderful people who go on to work for the local milk people." This probably goes without saying, but, folks, "local milk people" is now a meme.
Select All would have reached out to the local milk people for comment, but weirdly, all the emails we sent to localmilkpeople@aol.com bounced back.