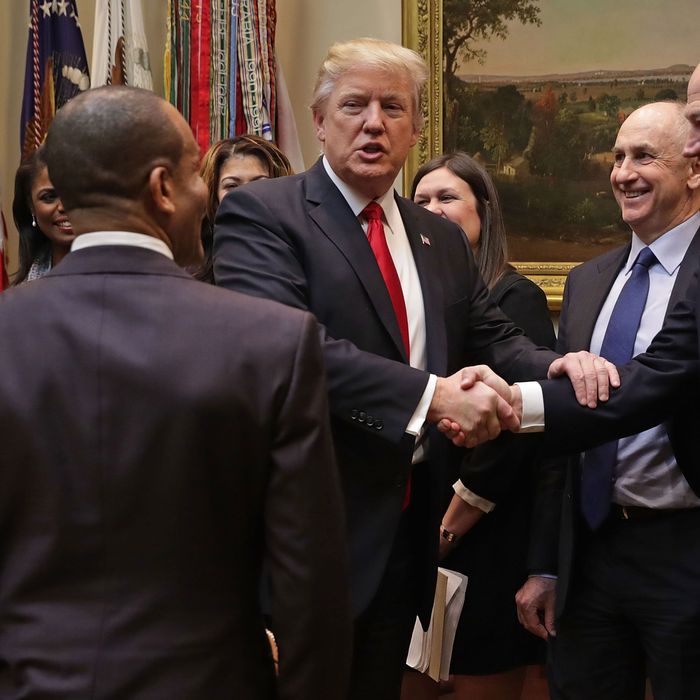 Gary Cohn, right, the modern day Oskar Schindler of the S&P 500.
Photo: Chip Somodevilla/Getty Images
There are people who have morally compelling reasons to work for the Trump administration — staffers tasked with avoiding war or some other mass tragedy. And then there is Gary Cohn. Numerous CEOs have urged the Trump administration's primary economic adviser to remain in his post, the Financial Times reports, "in order to help promote a pro-business agenda in an administration." And so, while Cohn is genuinely troubled by the president's response to a rally and terror attack by white supremacists, the fate of Q4 earnings cannot be held hostage to a little thing like Nazism.
Cohn's explanation to the FT for his painful decision is a gem of convoluted reasoning. "Citizens standing up for equality and freedom can never be equated with white supremacists, neo-Nazis, and the KKK," he concedes. But since Trump did exactly the thing Cohn says can never happen, what is his reason for staying in his post rather than resigning and denouncing the president? "As a Jewish American, I will not allow neo-Nazis ranting 'Jews will not replace us' to cause this Jew to leave his job," he says.
But of course nobody is suggesting that Cohn should have quit because of something the Nazis said. They're proposing he should quit because of something Trump said.
Specifically, Nazis chanted "Jews will not replace us," and Trump called them good people (thrilling them in the process). Cohn has managed to present his decision to stand behind Trump as an act of defiance against the group Trump praised. As the Talmud says, whoever saves a corporate tax cut, it is as if he saved the entire world.