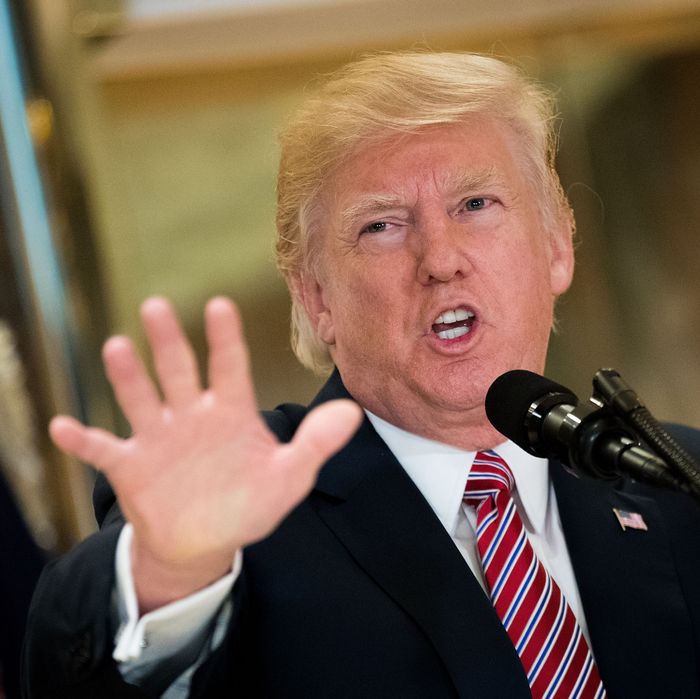 Trump reversing course at Tuesday's press conference.
Photo: Drew Angerer/Getty Images
Republican lawmakers who thought they could rest easy after President Trump finally condemned the KKK, neo-Nazis, and white supremacists by name two days after the deadly rally in Charlottesville, Virginia, clearly haven't been paying attention for the past seven months.
Trump started undermining his revised response almost immediately, and at a Tuesday afternoon press conference he reversed course in spectacular fashion, saying that both white supremacists and the so-called "alt-left" counterprotesters deserve blame for Saturday's violence. He even defended some who attended the "Unite the Right" rally, saying "you also had some very fine people" who showed up to defend the statue of Confederate general Robert E. Lee, who fought to preserve slavery.
The combative press conference in Trump Tower was supposed to be about infrastructure, and from their body language it was clear that some of the aides standing by — including National Economic Council chairman Gary Cohn and Treasury Secretary Steven Mnuchin, who are Jewish — were deeply uncomfortable. Here's the reaction of new White House chief of staff John Kelly, who was supposed to help bring order to the Trump administration:
According to the New York Times, Trump staffers were stunned not by the president's troubling views, but the fact that he was voicing them in public:
No word in the Trump lexicon is as tread-worn as "unprecedented." But members of the president's staff, stunned and disheartened, said they never expected to hear such a voluble articulation of opinions that the president had long expressed in private.
Nevertheless, the White House issued an "evening communications briefing" urging Republicans in Congress to say "the president was entirely correct — both sides of the violence in Charlottesville acted inappropriately and bear some responsibility."
A few tried their best, like New York representative Lee Zeldin. He condemned "anyone associating themselves with the KKK and Nazism," then argued that Trump was right to point out the violence on both sides, noting, "There is an element of our country that has pledged to resist, oppose, and obstruct this President entirely on absolutely everything and anything."
Then there was Senator Jim Inhofe, who chose to pretend the president had delivered a different press conference:
A handful of Republican lawmakers called out President Trump for reverting to his claim that "both sides" were to blame for the violence in Charlottesville.
Many more Republicans opted to issue another round of statements condemning white supremacy, without spelling out whom they were subtweeting.
And of course there were those who found the president's rant refreshing. Kayleigh McEnany, the new national spokeswoman for the Republican National Committee, claimed that by declaring "there's blame on both sides" President Trump was preaching unity:
On Fox News, Tucker Carlson tried to bolster the president's case:
And, of course, white supremacists were thrilled: