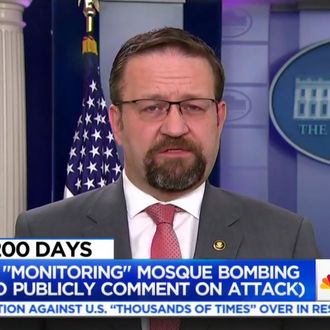 A brilliant mind at work.
Photo: MSNBC
In the early morning hours of August 5, someone hurled an improvised explosive device at a mosque in Bloomington, Minnesota. None of the roughly 20 early morning worshippers were injured, but the blast broke windows and began a small fire, filling the building with smoke. The mosque's executive director told a local TV station that "one of our congregation members came out immediately and he saw a truck fleeing from the parking lot, running at very high speed." The FBI is investigating; no arrests have been made. On Sunday, Minnesota governor Mark Dayton called the attack "an act of terrorism."
But the response from the Trump administration has been predictable yet disturbing: almost complete silence. President Trump has not issued a statement or tweeted about the Minnesota attack, preferring to direct his attention to other pressing matters, like Senator Richard Blumenthal's Vietnam record.  (The Department of Homeland Security  did issue a strong statement condemning the attack.)
In a Tuesday appearance on MSNBC, Nazi-ish quasi–White House adviser Sebastian Gorka put forth a bizarre justification for the radio silence: The attack, you see, may have been perpetrated by the left.
"There's a great rule: All initial reports are false," Gorka said. (Editor's note: This is a terrible rule.) "You have to check them; you have to find out who the perpetrators are," Gorka continued. "We've had a series of crimes committed — alleged hate crimes by right-wing individuals in the last six months — that turned out to actually have been propagated by the left. So let's wait and see, let's allow the local authorities to provide their assessments, and then the White House will make its comments." Responding to Stephanie Ruhle's assertion that Trump had no problem immediately commenting on a London terror attack in June, Gorka countered that it was obvious in that case who the perpetrators were — ignoring the fact that Trump tweeted out a Drudge Report story written before any facts were known. Ruhle also made the eminently reasonable point that "you don't have to make a statement about who did it, but you can make a public statement about how terrible it would be to attack a building of worship." "That's fine," Gorka responded unconvincingly. "And I'm sure the president will do that."
The Trump administration's muted response follows a clear pattern of playing down attacks by white perpetrators on minorities. When a Canadian white nationalist — and Trump admirer — killed six people in January, the president said nothing publicly. And when a man yelled "Get out of my country" while shooting and killing an Indian engineer in Kansas, Trump was deafeningly silent for a week before he finally acknowledged the crime. Then there are the thousands of other minor incidents and threats targeting Muslim people and institutions that the president has failed to acknowledge.
"President Trump has to date not expressed any significant opposition to Americans turning on Americans of the Islamic faith," Corey Saylor, who monitors Islamophobia for the Council on American-Islamic Relations, told HuffPost. "Through his Muslims ban and comments from the campaign trail, he has instead painted the entire American Muslim community as suspect."
Of course, it's a very different story when nonwhites, particularly immigrants, are the offenders. Nothing gets Trump's blood moving like the age-old tradition of employing over-the-top, graphically violent images to dehumanize minorities. Just two weeks ago, he described towns in which MS-13 gangs have carried out murders as "bloodstained killing fields," and the immigrants who committed those attacks as "animals."
And at a rally that week, he told a rapt crowd that gang members will "take a young, beautiful girl, 16, 15 and others and they slice them and dice them with a knife because they want them to go through excruciating pain before they die."
In a way, the Trump administration's refusal to acknowledge attacks on Muslims and other minorities makes sense, since it is Trump himself who is the proximate cause of the uptick in such incidents. The steep rise in anti-immigrant and anti-Semitic incidents since the beginning of his campaign is a testament to the president's ability to stir up anger and hatred. But even he may be too squeamish to acknowledge that he has contributed to making America into a more intolerant place.