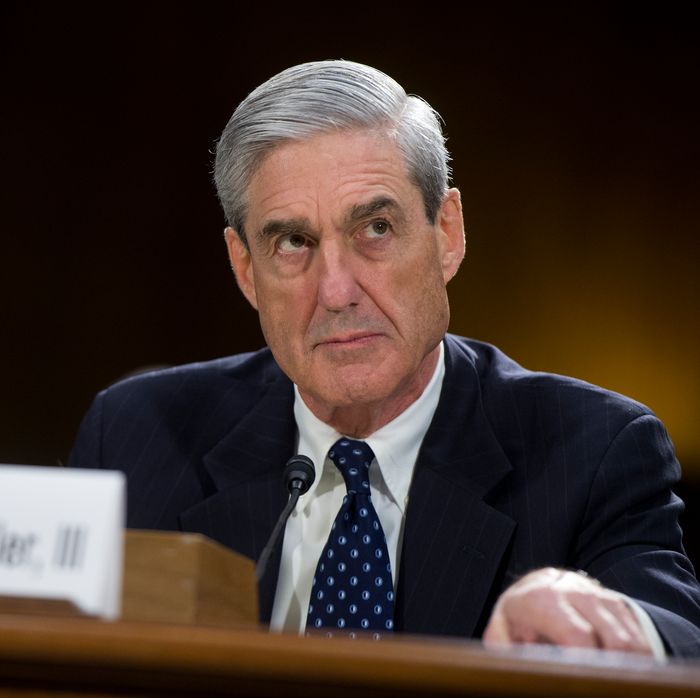 Trump's complaints haven't slowed Mueller down.
Photo: Tom Williams/CQ-Roll Call,Inc.
Within moments of each other, the Wall Street Journal and Reuters published reports on Thursday detailing how Robert Mueller, the special counsel appointed to investigate any criminal matters arising from the Trump campaign's dealings with Russia, is no longer working by himself and his team of highly skilled lawyers. He's impaneled a federal grand jury in Washington, citizens like you and me who now have a responsibility to determine whether there's enough evidence of wrongdoing under federal law to merit charges for anyone in Trump's circle — or maybe even President Trump himself.
Any charges stemming from this grand jury investigation would be a really tall order and take time to materialize, if they materialize at all. But the fact that this grand jury has begun the secret and sacred work that the law empowers it to do — issuing subpoenas, compelling witnesses to testify, and looking into anything that Mueller puts before it — is a really big deal. This means that for the next 18 months, give or take, the star team that the former FBI director has assembled will be testing several theories of criminality that have emerged in connection with the ever-growing Russia probe.
That includes whether Trump obstructed justice when he fired FBI Director James Comey after the latter refused to go along with the president's suggestion that he drop looking into his disgraced national security adviser, Mike Flynn. Or whether the Trump team violated campaign finance or other laws when Donald Trump Jr., Jared Kushner, and Paul Manafort met with a Russian-linked lawyer who promised dirt on Hillary Clinton. It may even include potential financial crimes by Trump associates who have documented ties to the Kremlin. And this is just the stuff that's come out in news reports.
As it stands, Mueller's mandate is broad: He's authorized to investigate "any links and/or coordination between the Russian government and individuals associated with the campaign of President Donald Trump," as well as "any matters that arose or may arise directly from the investigation." And he may drop the gauntlet of a federal prosecution whenever he deems it "necessary and appropriate."
That's a lot of power. Short of Trump having Mueller join the ranks of other federal prosecutors he's fired because they didn't do his bidding (which would be a political disaster for the White House), there's really nothing stopping the special counsel from going as far as federal law will allow him to go. Mueller even has a guy on his team that knows the federal code inside and out. And with a presidency that's prone to chaos and confusion, particularly when it comes to the rule of law, it wouldn't be surprising if the very fact of, say, grand jury subpoenas leads its actors down the path of confusion and more potential crimes.
One New York chief judge once said that a prosecutor has enough sway to get a grand jury to indict a ham sandwich if he so wished. Mueller won't take that route because he doesn't have to. He'll take every step he needs to take with the professionalism and respect the criminal process and a case of this magnitude deserve. And as his work and that of the grand jury intensify, it will only be in Trump's best interest to treat it with the same level of respect — not as the "witch hunt" that he keeps telling himself that it is.