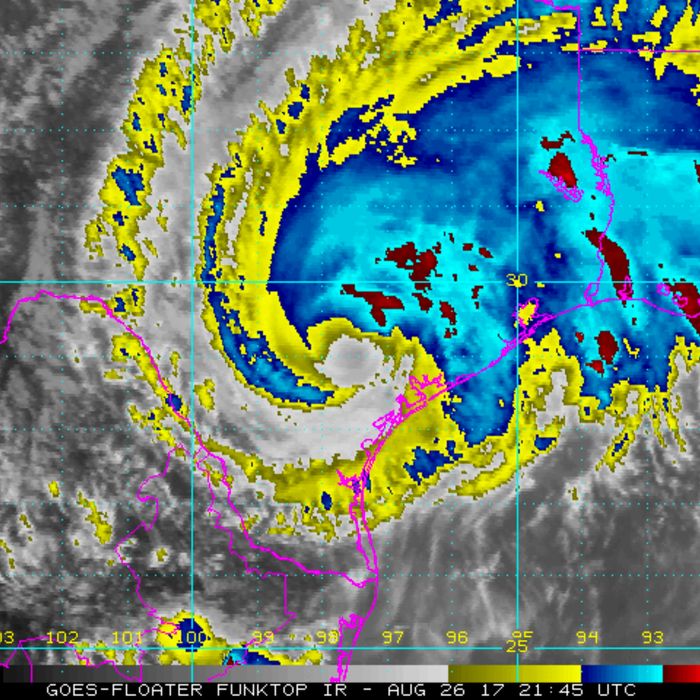 Satellite image of Tropical Storm Harvey on Saturday afternoon.
Photo: NOAA
• This post was last updated on Saturday night. For Sunday's post about the subsequent flooding in the Houston area, go here.
• Hurricane Harvey was downgraded to a tropical storm on Saturday afternoon, with sustained winds of 70 mph or less accompanied by an enormous amount of rainfall. Harvey has weakened considerably since making landfall on Friday night as a Category 4 storm, but has done extensive damage along the Gulf Coast, primarily between Galveston and Corpus Christi, posing a significant danger for Texas residents. As of early Saturday night, the storm was positioned almost entirely inland, while moving very slowly to the east-northeast.
• The primary concern now is flooding from the massive amounts of rain the storm will continue to produce as it stalls and hovers over the state. That rainfall is expected to continue for days, producing what the National Weather Service expects to be "catastrophic and life-threatening flooding." The tropical-storm conditions could persist in the region through Wednesday.
•Dr. Jeff Masters warned on Saturday: "An extremely serious situation with few if any close parallels in modern U.S. hurricane history is taking shape over the southeast third of Texas."
• At least one person is dead, with 14 people injured and nine missing on account of the storm — and that's all in one coastal town, Rockport, where Harvey made landfall north of Corpus Christi.
• Several tornadoes have been reported on Saturday in the affected region, along with multiple tornado warnings in both southeast Texas and southwest Louisiana.
• A combination of mandatory and voluntary evacuations have been ordered for areas most at risk from the flooding, including the evacuation of some 4,500 inmates from three Texas prisons near a flood-prone river.
• Twenty-five percent of the Gulf's oil production was offline as of Saturday, and gas prices are expected to rise across the country as a result of various storm-related shutdowns within the industry.
• Harvey is the first Category 4 hurricane to strike the U.S. since 2004, and the first major hurricane to hit since 2005.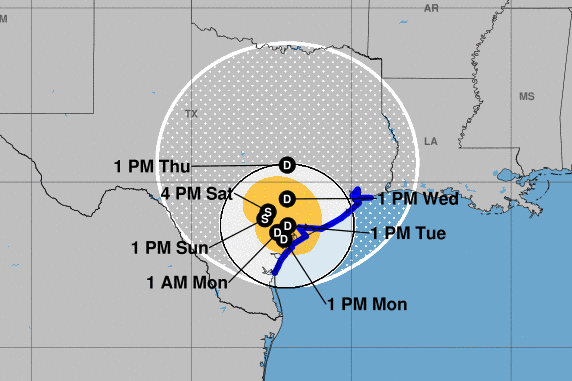 The Forecast and Flood Risk
The danger moving into Saturday night and beyond, as meteorologists have repeatedly warned over the past few days, is water. The latest forecasts predict that Harvey will hover across southeast Texas for as many as five days and continue to dump water on the state for much of that time, meaning the region's coast, rivers, streams, creeks, and bayous are all at high risk of flooding.
As Weather Underground meteorologist Bob Henson pointed out on Saturday:
There is virtually no precedent for such a slow-moving system maintaining at least tropical storm strength along the Texas coast for five days. Whether or not Harvey maintains tropical storm strength will depend in large part on how close its center drifts to the coast. Regardless of its status, Harvey's slow movement and huge amounts of moisture will lead to enormous rainfall and will likely produce vast areas of flooding.
Henson explained that the "multi-day onshore flow and storm surge coupled with extreme inland rainfall would push enormous amounts of water from several directions" leading to widespread and potentially historic flooding early next week southeast of Houston and elsewhere. The storm is not expected to depart the area until Thursday and may retain tropical-storm strength through Wednesday. By the time Harvey finally moves away, it may have deposited more than three feet of rain on some areas — and all of that water has to go somewhere. Benson's colleague Weather Underground founder Dr. Jeff Masters laid out the stakes even more bluntly on Saturday afternoon after revisiting the latest data:
Regardless of Harvey's ultimate track, there is very little doubt that Texas is in for one of the worst rainfall and flood events in its history. The resulting rainfall is very likely to produce widespread, devastating, and potentially catastrophic flooding. The situation in Houston is particularly concerning, given that city's vast size and population and its well-known vulnerability to flooding.
In other words, it is a matter of when, not if, major or possibly record flooding begins to occur in parts of southeast Texas. And the rainfall may not be even continuous, but come in waves, and some areas that get less rain may still be in danger thanks to the accumulation of precipitation upstream. According to the National Weather Service, 49 river locations in the region are expected to experience major flood conditions.
And if Houston gets the rain it's predicted to get, or more, overnight on Saturday, its problems will likely begin on Sunday morning.
There is also a continued risk of tornadoes generated by the storm, both in Texas and southwestern Louisiana. Multiple tornado warnings were issued on Friday and Saturday, and several tornadoes were reported to have touched down in Texas on Saturday, including some in a very populated county northwest of Houston.
Packing 130 mph winds, Harvey caused extensive destruction along the coast after it made landfall on Friday night. Authorities have not yet been able to estimate the dollar amount of the damage, but it will likely be substantial. In addition to the damage done to buildings, vehicles, boats, and trees, the storm also knocked out power for more than 300,000 people.
At least one person is dead, with 14 people injured and nine missing, according to authorities — all in Rockport, Texas.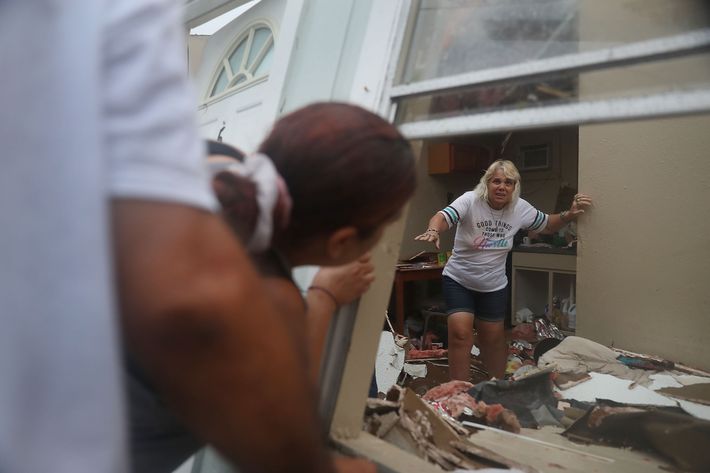 Rockport Among the Hardest Hit
The coastal town of Rockport took a devastating direct hit from the storm. Many homes, businesses, and municipal buildings were completely destroyed in and around Rockport, and as of Saturday afternoon, authorities were still searching for possible victims there since about half of the town's 10,000 residents chose not to evacuate. So far, the only confirmed death from the storm was in Rockport, and rescue teams have been going door-to-door to check on residents. Those efforts, as well as the town's overall efforts to recover, have been hampered by flooding, debris, and a lack of cell-phone service. Some images of Rockport's devastation are below:
Other towns between Galveston and Corpus Christi were also damaged by the storm, though some — particularly near Corpus Christi — got hit harder than others. The region's major cities seemed to escape Harvey's landfall without suffering significant damage. In the meantime, the full extent of the damage remains unknown, especially considering the difficulty emergency crews have had getting to and through the affected areas.
Oil-and-Gas Industry
Roughly 25 percent of the Gulf's oil production was offline as of Saturday on account of Harvey, as many industry businesses suspended their operations ahead of the storm. Fifteen percent of the region's oil platforms were evacuated, as were half of the drilling rigs in the Gulf; at least three refineries and two petrochemical plants also shut down in advance.
It's not clear how much of the oil-and-gas infrastructure may have been damaged by the storm, but the speed at which the facilities reopen will depend on the availability of power and the extent of any flooding. The Associated Press estimates that gas prices in the U.S. could go up by five to 25 cents as a result of the shutdowns.
President Trump signed a disaster declaration on Friday night at the request of Texas governor Greg Abbott, granting the state additional federal resources. The White House said on Saturday that he also conducted a video conference from Camp David with relevant agencies, like FEMA, and stressed to them that the preservation of lives should be their priority.
On Saturday, Governor Abbot gave a press conference in which he warned residents that flooding continued to be the greatest looming danger and that search-and-rescue efforts were the government's primary focus. Abbott said he had made emergency-disaster declarations for 50 counties in the state and activated hundreds of military service members. State agencies are also working to deliver supplies to areas in need, and numerous charities have set up shelter spaces in southeast Texas.
While residents of places like Corpus Christi have been told they can return to their homes, elsewhere, mandatory and voluntary evacuation orders have been issued near where floodwaters are expected to rise. Those evacuations even include some 4,500 inmates from three prisons next to the Brazos River near Rosharon. Many road closures have also been ordered in an attempt to prevent drivers from getting near the floodwaters.
This developing news story has been updated throughout.