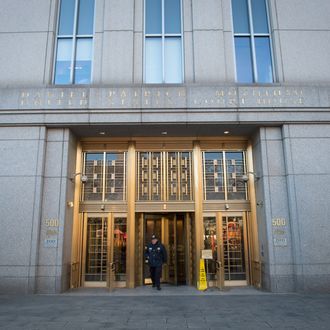 Manhattan federal court.
Photo: Bryan R. Smith/AFP/Getty Images
Months after Donald Trump fired former U.S. Attorney (now podcaster) Preet Bharara, his old job in the Southern District of New York remains unfilled. But the Trump administration may have settled on someone to nominate to one of the most prestigious posts for a federal prosecutor. The New York Times reports that the White House is looking to tap Geoffrey Berman, an attorney at the white-shoe firm Greenberg Traurig, where he is partners with former New York City mayor Rudy Giuliani, as Manhattan's next top prosecutor.
Berman, who also served as an assistant U.S. Attorney in the Southern in the '90s, reportedly appeared on a list of potential New York judicial and prosecutorial appointments the Trump administration sent to the two New York Democratic senators Chuck Schumer and Kirsten Gillibrand. Home-state senators can give (or withhold) support for such nominees through the "blue slip" process, a courtesy extended by the Senate Judiciary committee. But the White House may be trying to head off any potential conflicts there; according to BuzzFeed, the Trump administration sent the list of names as a courtesy and to open a dialogue with the senators. (Schumer also happens to be Bharara's old boss, and the Minority Leader had apparently urged Trump, during the transition, to keep Bharara on.)
Then again, Bharara had his own ideas of who might be gunning for his old job:
That document also allegedly mentioned candidates for the Eastern District's (Brooklyn's) federal prosecutor, including Edward McNally, a partner the firm of Kasowitz Benson Torres LLP, which happens to be the firm of Trump's outside attorney, Marc Kasowitz. McNally — whose name had also been floated earlier this year as a potential Bharara replacement — served as interim U.S. Attorney in southern Illinois in the mid-2000s, and also worked in the Southern District during part of Giuliani's tenure. He also claims he might have been the inspiration for Ferris Bueller. Attorney Richard Donogue, the other candidate mentioned, served as the criminal division chief in the Eastern District until 2011, before joining the private sector.