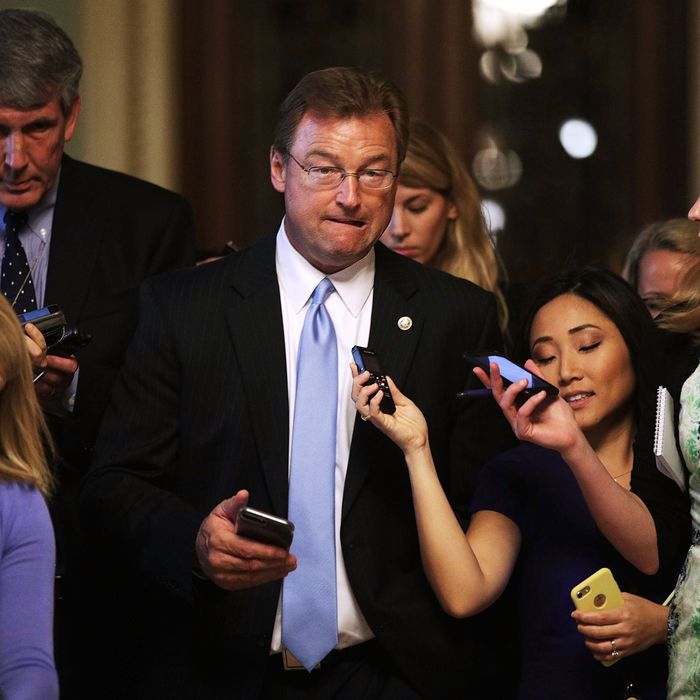 The Nevada Republican has managed to alienate everybody on health care, most recently by toeing the party line.
Photo: Alex Wong/Getty Images
For months and months Republican Nevada senator Dean Heller played Hamlet over legislation to partially repeal and replace Obamacare. His uncertainty appeared to ooze over in the direction of outright opposition to the Senate GOP's Better Care Reconciliation Act in June, after a joint press conference with Nevada governor (and fellow Republican) Brian Sandoval wherein both pols complained about BCRA's quick phase-out of the Obamacare Medicaid expansion. He was subjected to all sorts of blandishments and threats from conservatives back home, and a pro-Trump group briefly ran anti-Heller ads until Mitch McConnell told the White House to yank its chain.
When the deal went down in the Senate, Heller voted against both the latest version of BCRA and a "straight repeal" bill similar to one he had voted for in 2015. But before that he gave McConnell a precious "yea" vote on the motion to proceed that revived the whole effort from the grave, and after that he stuck with his caucus on the "skinny repeal" vote that ended the whole exercise.
Heller was, in other words, all over the place, but stuck with his party's unpopular course when the chips were down.
According to a new survey from Public Policy Polling, his act bombed decisively with Nevadans. Heller, who will face voters next year, now has an approval rating of 22 percent, with 55 percent disapproving and 23 percent unsure. Only 31 percent of respondents say they would vote for him against a generic (unnamed) Democrat, who would receive 50 percent. A June PPP survey showed Heller doing a lot better, though not that great: his approval ration then was 31/44, and he was only trailing a generic Democrat by 7 points.
In other words, one of the two most vulnerable GOP senators running next year (the other is Arizona's Jeff Flake) appears to have fundamentally mishandled the biggest issue of 2017. It probably did not help that Mitch McConnell apparently insisted on Heller — and Flake — voting for the "skinny repeal" after he knew he didn't have the votes to pass it.
Heller is now trying to recover by supporting the Graham-Cassidy "let the states decide after we cut their money" health-care bill, but he may just be digging his hole a little deeper by appearing so irresolute that he's eager to dump the whole problem on the states. The senator should probably find three policy positions that poll really, really high, and talk about them incessantly and emphatically until the end of the year.