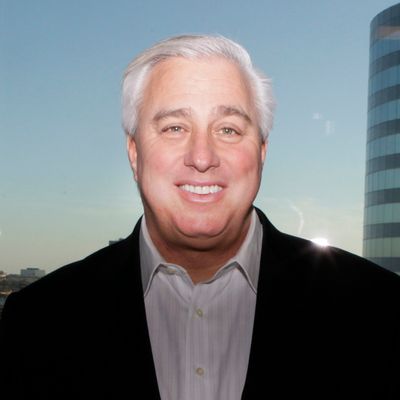 Ed Butowsky, the businessman and Fox commentator at the center of the suit.
Photo: LM Otero/ASSOCIATED PRESS
"You know, I don't like the way you said that," Ed Butowsky told me Tuesday afternoon, his voice raising. "I'm happy you're recording this," he added, warning me that he was recording it, too. "I don't like the way you're saying that! I didn't have an interview with Sean Spicer, so don't say that!"
Butowsky's issue was with my use of the word interview, not the fact that he met with the White House press secretary about an explosive right-wing conspiracy theory in April. Whether Butowsky approached the White House in his capacity as a Dallas businessman and Trump supporter, or as a talking head often featured in the right-wing media, particularly the Fox Business Channel, is in dispute.
It's a key question now that Butowsky finds himself at the center of a lawsuit that has serious implications not only for himself and the other defendants — 21st Century Fox, the Fox News Channel, and Malia Zimmerman, a Fox News reporter — but also for the White House, the Russia controversy that threatens to undo it, and the country as a whole. If you believe the official talking points, Butowsky was invited into the West Wing just like any other journalist who needed to talk about a story. But if you believe Butowsky, he was there to pass along information that he thought President Trump might benefit from. There are uncomfortable echoes of Donald Trump Jr.'s meeting with the Russians here — just another reminder that the Trump White House, like the Trump campaign, is a different organism than anything we've seen before. In what other administration would a D-list pundit be allowed to speak to a senior administration official about a conspiracy theory, after all?
The suit revolves around the baseless speculation that emerged after the murder of Seth Rich, a staffer at the Democratic National Committee, on July 10, 2016. The crime remains unsolved, like many of the murders that took place in D.C. last year, but investigators have wagered that it was the result of a robbery gone wrong. However, many on the fringes of political discourse refuse to accept that answer, believing instead that Rich was behind the release of DNC emails to WikiLeaks and that he was murdered in an act of retribution by either the DNC, the Hillary Clinton campaign, or even by Clinton herself. Although the conspiracy originated with someone on Twitter who purports to support Bernie Sanders, it became wildly popular among the Pizzagate crowd. Over a period of months, it's bled from message boards and obscure blogs into more mainstream media, like prime-time on Fox News, where Sean Hannity repeatedly discussed it with his guests, like Newt Gingrich. Hannity remains a close associate of the president's, speaking to him often by phone and even dining with him last week in Washington.
According to the suit filed by Rod Wheeler, which was first obtained and reported by NPR, Fox News worked alongside Butowsky to perpetuate the conspiracy with false information and quotes — and did so with the blessing of the White House, and even potentially Donald Trump himself, all to diminish and deflect from the stories regarding the Trump campaign's ties to Russia.
Wheeler is a Fox News contributor and a private investigator, and he had been hired by Butowsky on behalf of the Rich family to solve the murder. Previously, Butowsky has claimed that Wheeler's hiring is where his involvement in the case both began and ended. He told me in late May that he'd reached out to the Riches out of the kindness of his heart, and although he offered to pay for Wheeler's services, he hadn't even received a bill yet.
But the suit claims otherwise, and Butowsky now admits his ties to the Rich conspiracy didn't quite stop with financial generosity. And complicating matters further, Butowsky and the White House aren't on the same page.
On April 20, Butowsky and Wheeler visited Spicer in the White House — something all parties acknowledge. According to Butowsky, he only brought Wheeler along because he "was asking me nonstop to get him an interview so he can get a job in the White House." He promised me he had text messages to support this claim that he would send me, but as of press time, he hasn't delivered them. "I thought it would be good because maybe somehow Rod Wheeler can get his own damn job at the White House. This was not anything more than that." He added that he didn't even remember the date of this meeting, which he claims lasted just 15 minutes (Spicer told CNN it was even shorter: ten minutes).
In his statement to CNN, Spicer described Butowsky as a "longtime supporter of the president's agenda who often appears in the media." He said he didn't know what the subject of the meeting would be before it took place, but the extent of the discussion about Rich ended with Butowsky and Wheeler informing Spicer "they were working on a story" about it, "and wanted me to be aware of it — that was it."
At the White House press briefing Tuesday, the new press secretary, Sarah Huckabee Sanders, shrugged off Spicer's meeting. "He met with members of the media. I don't find that to be a strange thing."
When we talked shortly afterward, Butowksy told me he called Spicer "and said, 'Hey, can I come see you?' And he said, 'Sure!' And so I did."
When he broached the topic of Russia and Rich, something Butowsky said lasted "30 seconds," Spicer replied: "'Eddie! I don't have any idea what to say to you! I don't know what you would do with that?'" Butowsky said he suggested that the White House go to the FBI, but Spicer told him, "I know it doesn't work that way, but I don't know how it works, and I can't do anything." Asked if Spicer had anything to say about Rich, Butowsky said, "No! Nothing!" (Spicer didn't respond to a phone call or email on Tuesday.)
Wheeler's interest in employment opportunities in the Trump administration didn't come up, Butowsky explained, since, "You don't, the first time you meet someone say, 'Hey, I want a job.'"
Butowsky mentioned "it was kinda cool" to be at the White House, because, "I've never been there." When I said I'd seen a photo he posted from the White House briefing room on Facebook, he said, "Yeah, but that's not in the White House. That's in the briefing room." (The briefing room is in the West Wing, and those admitted to be there as press are also allowed to head back behind the lectern, to where Spicer keeps his office.)
A month after the meeting, Fox News published its story, which Wheeler now claims contained false quotes. A week later, the story was retracted — but not before it granted legitimacy to the conspiracies that let the Trump campaign off the hook while tormenting the friends and family of Rich.
So, why did Butowsky get the White House involved? And what made Wheeler think that this Dallas businessman could help him join the Trump administration?
According to the lawsuit, Butowsky left the impression that he was very close to the White House — and even to the president. In a text message included in the lawsuit, Butowsky said to Wheeler: "Not to add any more pressure but the president just read the article. He wants the article out immediately. It's now all up to you. But don't feel the pressure."
Butowsky told me that was just a joke. "He hoped I knew the president," he said of Wheeler. "I've never spoken to the president in my life. And I was teasing with him about, 'Come on!' Whatever."
Still, Butowsky can't help but want to appear connected to the Trump administration even while he's denying it. He told me, "I knew people who were on the campaign," but then backtracked and said, "It wasn't so much on the campaign. I know people."
He has previously described Steve Bannon, the president's chief strategist who previously ran Breitbart News, as a personal friend.
Asked about that on Tuesday, things devolved into a strange existential meditation on the meaning of friendship.
"Steve Bannon is a friend," he said first. And then: "He would say he barely knows me, because we've never really done anything together, but he's a friend. I've been on his radio show twice. And I've written a couple of articles and I've seen him places, and he's a very nice guy and I like him and admire his intelligence quite a bit."
Asked what in the hell that meant, he said, "Well, I guess everyone has a different interpretation of a friend. I've never been to dinner, lunch with him. I've never had a drink with him. I've never really done anything with him. I don't know … He's a friend. How about this: You're my friend, too." (I am not.) "You know what I'm saying … You can call him friend, friendly associate. When I said I don't know if Steve would call me a friend? We've never really done much together! I call Steve — he's a friend. He's a really nice guy." (Steve Bannon does not consider Butowsky a friend.)
Butowsky said he hasn't spoken to Bannon in "two years" and he's never met with him at the White House. But he noted that there's another person he considers a friend, "Who I haven't talked to in six years. You can define it any way you want to. I think you're my friend." (Again, no.)
"This is kind of silly," he admitted.
But also serious — the theme of this administration.