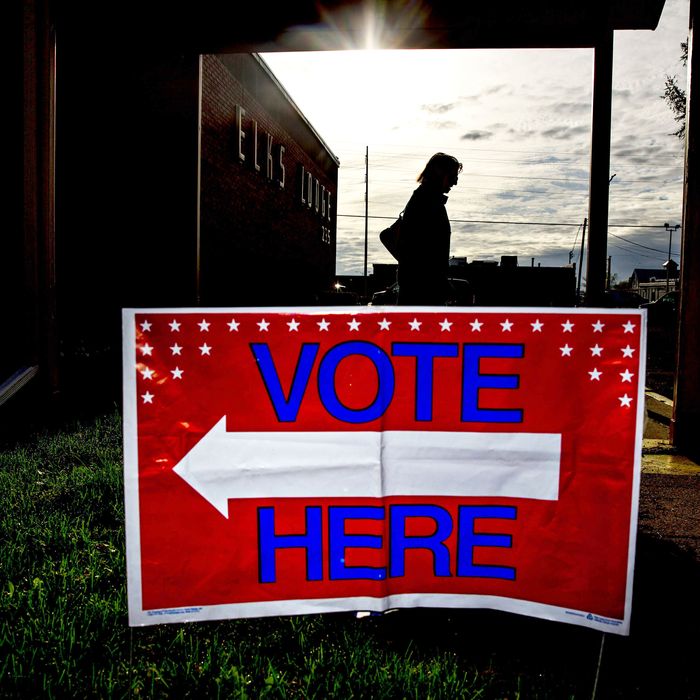 Partisanship in election administration can take a large toll on voting opportunities, as an Indianapolis
Star
report shows.
Photo: Daniel Acker/Bloomberg via Getty Images
Sometimes, disputes over voting rights are hard to sort out, since they are often loaded with legalese and hinge on obscure election procedures. But an investigative report by the Indianapolis Star lays out a pretty open-and-shut case of voter suppression by the Indiana GOP:
State and local Republicans have expanded early voting in GOP-dominated areas and restricted it in Democratic areas, an IndyStar investigation has found, prompting a significant change in Central Indiana voting patterns.




That made voting more convenient in GOP areas for people with transportation issues or busy schedules. And the results were immediate.
How much more convenient, you may ask? A lot:
Hamilton County saw a 63 percent increase in absentee voting from 2008 to 2016, while Marion County saw a 26 percent decline. Absentee ballots are used at early voting stations.
Voter registration during this period was up in both counties.
There's not much mystery about why the trends and the decisions that drove them started happening after the 2008 elections: That's when Indiana went Democratic in a presidential election for the first time since 1964, and only the second time since World War II. Marion County (Indianapolis) had three early voting sites in 2008. Republicans changed that immediately.
State law requires a unanimous vote from county election boards to create more than one early voting site. The Democrats on the boards in both urban Marion and suburban Hamilton Counties voted for more sites. The Republicans in Hamilton did, too — but not the sole Republican in Marion.
[F]our attempts to expand early voting in Marion County have been approved by Democrats, but blocked by the county's lone GOP representative on the elections board …




In May, Common Cause Indiana and the NAACP's Indianapolis chapter filed a lawsuit against the Marion County Election Board, Lawson and individual members of the Marion County Election Board, along with Marion County Clerk Myla Eldridge over the lack of early voting locations in the County.
It's a good example of how America's radically decentralized system of election administration combined with blatant partisanship can cause serious discrimination in voting opportunities. The Republicans who run Indiana see no reason to change the rules that facilitate discrimination. They can't hide behind obscure rules and "local control" forever.