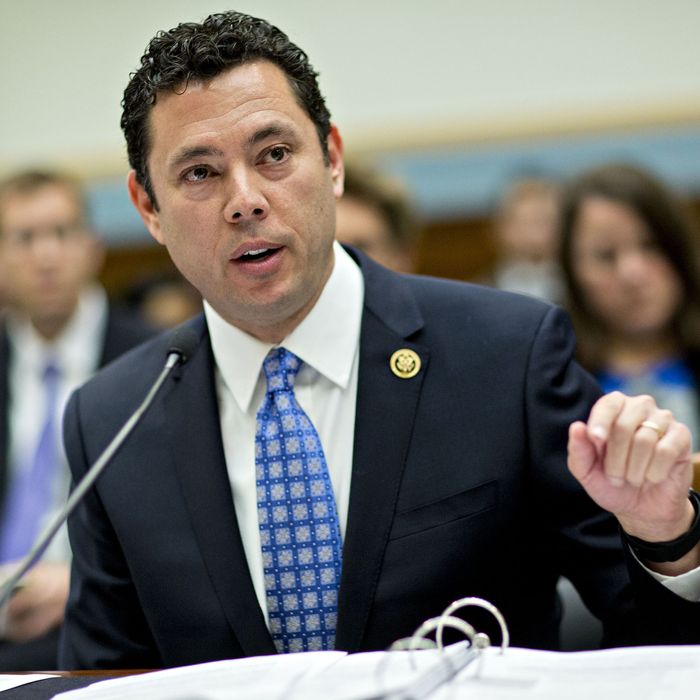 The GOP battle to succeed Fox News commentator Jason Chaffetz features a front-runner challenged by a conservative firebrand or two.
Photo: Andrew Harrer/Bloomberg via Getty Images
Alabama's Republican U.S. Senate special primary election today is getting lots of national attention. But in another deep-red state across the country, the GOP is holding another "tantamount" primary (a primary "tantamount" to a general election due to the heavily partisan nature of the jurisdiction): the third congressional district of Utah. In this profoundly conservative district that includes the cities of Provo and Orem, the abrupt resignation of the apparently bored Representative Jason Chaffetz has created a fine opportunity for some ambitious Republican to secure a safe seat.
Unlike the Alabama race, which has been dominated by the candidates' common idolatry of the president, the Utah contest has been more strictly ideological, as befits a state where doubts about Trump's moral fitness to serve as a champion of the right were nearly enough to make the state competitive in the 2016 general election (as it was, Trump only won 46 percent in Utah, with conservative independent Evan McMullin getting 21 percent of the vote).
Another factor driving the Utah race is the state's strange nominating process. Normally party nominees are chosen by conventions, which, on the GOP side at least, are often dominated by ideological purists (this is how Mike Lee displaced Bob Bennett as a U.S. Senator in 2010). In this year's June GOP convention for the third district seat, conservative firebrand and former state legislator Chris Herrod (probably best known as an unsuccessful challenger to Senator Orrin Hatch in 2012) defeated ten other candidates to get a primary ballot spot. In a development made possible by a 2014 change in Utah election laws, two other candidates got on the primary ballot via petitions: Provo mayor John Curtis and basketball scion Tanner Ainge (son of Danny Ainge, the former BYU and NBA star).
Herron has sought to make the race a test of rigorous conservatism. He is the only candidate to talk positively about Trump, but has also been endorsed by 2016 Trump rivals Ted Cruz (who defeated Trump soundly in the 2016 Utah primary) and Rand Paul. The Club for Growth has spent around $300,000 supporting Herrod and attacking Curtis and Ainge as tax-happy RINOs. One real problem for Curtis is a brief history as a registered Democrat a while back.
The well-known Curtis was the early front-runner; he's being backed by the state GOP Establishment, including Governor Gary Herbert. But the relatively heavy outside spending for Herrod, and also for Ainge (a super-pac largely funded by his family has boosted him lavishly) have tightened it up. The only poll taken in August shows Curtis narrowly leading Herrod among registered Republicans (independents must re-register by today to participate) by a 29/25 margin, with Ainge at 16 percent and a still-robust 26 percent undecided.
The district's beleaguered Democrats will hold an uncontested primary today — physician Kathie Allen won the nomination at her party's convention, since no candidates qualified by petition.
There's one other wrinkle political junkies should be aware of: There may not be an announced winner tonight in UT-03. That's because a majority of the counties in the district deploy a vote-by-mail system (supplemented by an in-person option at a limited number of "voting centers"), which allows ballots postmarked by August 14 but received later to be counted. The wait for results will be aggravated by a bureaucratic error in one of the larger counties whereby GOP primary ballots were sent to independent voters. Since non-partisan municipal elections are also being held today, these ballots will have to be sorted through and examined against registration rolls over the next few days.
Meanwhile, Jason Chaffetz has gotten a lucrative gig with Fox News. He didn't endorse anyone in the primary to choose his successor, but perhaps he'll offer his pithy thoughts on the outcome to his viewers once it's known.