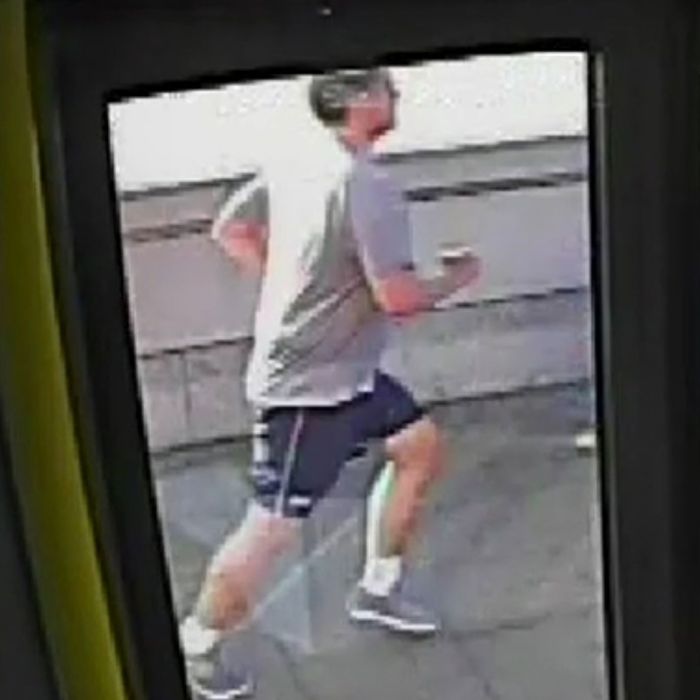 An American investment banker denies he is the jogger who pushed a woman into traffic on a bridge in southwest London. Eric Bellquist, a 41-year-old partner at private equity firm Hutton Collins, was arrested late Thursday in connection to the assault, but insists he was in the United States on the date in question, the morning of May 5.
The stunning incident was captured on surveillance footage. A man in shorts and T-shirt is jogging as a woman walks in the opposite direction on the pedestrian path of Putney Bridge. Before she passes him, the jogger appears to shove her off the walkway directly into oncoming traffic. A double-decker bus swerves out of the way just in time to avoid hitting the 33-year-old victim. The man — dubbed the "Putney Pusher" by the British tabloids — keeps running.
The woman suffered only minor injuries, thanks to the "hero bus driver" who veered just in time, and bystanders who rushed to help her. The victim told police that the jogger again ran by the same spot, about 15 minutes later. She tried to confront him, and he ignored her.
Bellquist was reportedly released on bail as police continue the investigation, and he has not been charged with any crime. Bellquist's attorneys released a statement Friday maintaining their client had been "wrongly implicated" in the bridge assault. Bellquist "categorically denies being the individual concerned and has irrefutable proof that he was in the US at the time of the incident," the statement read. "Consequently, we expect a swift resolution to this wholly untrue allegation."