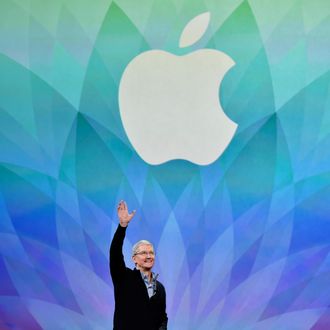 Photo: David Paul Morris/Bloomberg via Getty Images
If you've been cradling your old iPhone, with its cracked screen and crummy battery life, and whispering just a little longer, please hold on just a little longer till I can replace you, your time has finally come. Apple is holding a product-launch event on September 12. Three new iPhones are expected to be released on that date, The Wall Street Journal reports, as well as a new smartwatch.
Two of the three phones are expected to be updated versions of Apple's existing iPhone 7. The third, however, is likely to be the much-rumored iPhone 8. This device will reportedly cost just shy of $1,000 and will likely have new features including wireless charging and facial recognition. Other design rumors include a larger screen, no home button, and significantly higher resolution. Color choices will, if KGI Securities analyst — and historically good Apple predictor — Ming-Chi Kuo is to be believed, be limited to silver, gold, and black. Only a few more weeks till we'll get to watch Tim Cook on a livestream and play Apple-event bingo and find out for sure.