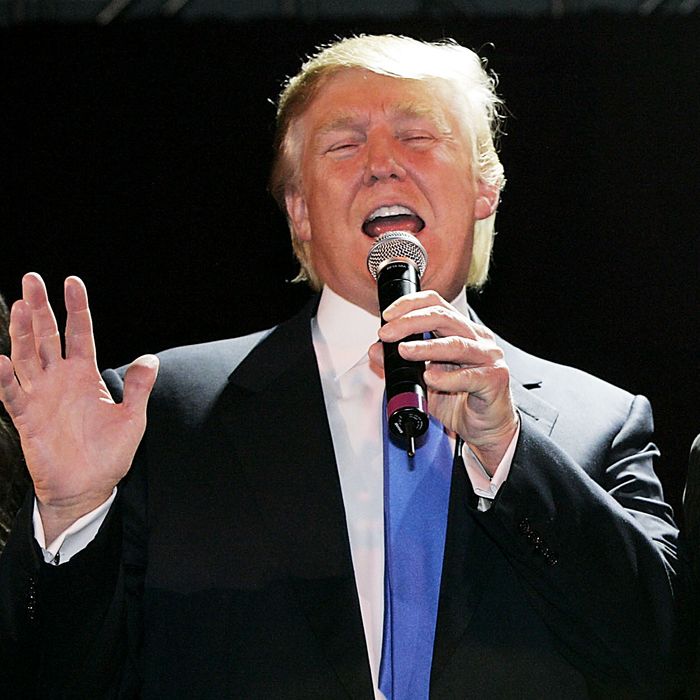 Donald Trump, Tevfik Arif, and Felix Sater attend the Trump Soho Launch Party on September 19, 2007, in New York.
Photo: Mark Von Holden/WireImage
There are three known channels for potential collaboration between the Trump campaign and the Russian influence operation on its behalf. The first, and best-known, is a meeting in Trump Tower between Russian agents and Donald Trump Jr., Paul Manafort, and Jared Kushner. A second channel was an attempt by Republican operative Peter W. Smith to obtain Hillary Clinton's emails through Russian hackers. (Robert Mueller is investigating Michael Flynn's connection to this operation, The Wall Street Journal reported a few days ago.)
Now the New York Times reveals a third potential channel: Trump associate Felix Sater, who described his ambitions in emails to his friend (and Trump's lawyer) Michael Cohen, in emails: "Our boy can become president of the USA and we can engineer it. I will get all of Putins team to buy in on this, I will manage this process."
We don't yet know for certain what level of cooperation any of these three channels produced. Sater's channel is particularly intriguing. Whatever Sater did began much earlier than any other known case of collaboration — he emailed Cohen about the scheme in November 2015, seven months before the Trump Tower meeting. Sater has deep financial connections to Trump and to Russia. Andrew Rice's profile is a good place to start understanding Sater — a Russian-American gangster, a friend of Cohen since childhood, and an important Trump business partner who worked out of Trump Tower.
In an interview with Rice, Sater denied any collusion between Trump and Russia: "But was it really a conspiracy between Putin and Donald to get him elected? A little bit of a stretch." He also refused to answer when asked the last time he had spoken with Trump.
Trump, likewise, has been highly evasive on the subject of Sater. "Felix Sater, boy, I have to even think about it," Trump told the Associated Press in December 2015, referring questions about Sater to his staff. "I'm not that familiar with him." In 2013, Trump walked away from a BBC interview when asked about Sater:
But Sater's work on behalf of Trump continued through the campaign and beyond. Sater, the Washington Post reported last night, tried to set up a deal for Trump to build in Moscow in late 2015, and Trump's company signed a letter of intent. (During the campaign, Trump denied any financial involvement with Russia: "I have nothing to do with Russia," he told CBS Miami. "I don't have any jobs in Russia. I'm all over the world but we're not involved in Russia." Like many of his claims on this and other subjects, he was lying.)
In January 2016, Cohen emailed Vladimir Putin's top aide requesting help on the project. And a few weeks after Trump was inaugurated, the New York Times reported months ago, Cohen and Sater gave Flynn a proposal for a pro-Russian settlement with Ukraine.
What all three channels have in common is documented proof that officials working for Trump had an utterly blasé attitude about soliciting Russian cooperation for the Trump campaign. When promised Russian-produced dirt on Hillary Clinton, Donald Jr. eagerly replied, "If it's what you say I love it." Peter Smith met with Matt Tait, a British cybersecurity expert, in the hopes of obtaining stolen Clinton emails, and did not care at all that he might get them from Russia. ("He never expressed to me any discomfort with the possibility that the emails he was seeking were potentially from a Russian front, a likelihood he was happy to acknowledge," Tait recounted.) And Sater seems to assume that whatever plan he was cooking up would succeed: "I will get Putin on this program and we will get Donald elected," he wrote.
We don't yet know how deep any of these schemes ultimately went. We do know that the principal figures in all of them took the premise of accepting Russian help for Trump's campaign as an obvious backdrop assumption. If there's an email in which one of Trump's staffers expresses shock or bewilderment at the idea that Vladimir Putin would want to help elect Trump, or that Trump would accept his aide, it has not yet turned up.
In its place we have a series of denials by a wide array of figures in Trump's orbit about their connections to Russia. The denials keep crumbling, one by one. There is no reason to assume the pattern will stop any time soon.