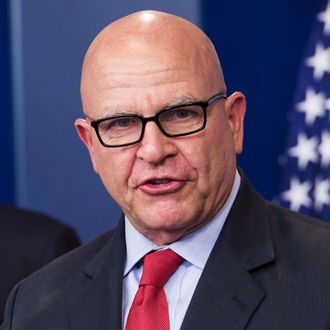 McMaster.
Photo: Nicholas Kamm/AFP/Getty Images
H.R. McMaster, national security adviser and so-called "adult in the room," is apparently gaining some ground over the nationalistic forces inside the Trump administration.
On Wednesday, the White House confirmed that the NSC's senior director of intelligence, 30-year-old Ezra Cohen-Watnick has "left" the NSC. McMaster had allegedly tried to get rid of Cohen-Watnick — who was brought on by former National Security Adviser Michael Flynn, and also worked on the Trump transition — soon after taking the NSC job. McMaster reportedly expressed doubts about Cohen-Watnick's qualifications, but advisers Jared Kushner and Steve Bannon intervened on his behalf, and got Trump to step in and overrule McMaster.
Cohen-Watnick's ouster appears to be the latest sign that McMaster isn't done cleaning house of both Bannon and Flynn loyalists at the NSC. (And maybe it's also a sign of a new order under chief of staff John Kelly.) In addition to Cohen-Watnick, Derek Harvey, another Flynn ally and Iran hawk, was "removed" from his post as NSC Middle East adviser last week.
These personnel changes come amid an Atlantic report that an NSC staffer was fired last month after a troubling memo he wrote arguing that "globalists," Islamists, and the "deep state" are working to undermine President Trump's agenda, and threatening the country.
The NSC staffer in question is Rich Higgins, formerly director of strategic planning. "Through the campaign, candidate Trump tapped into a deep vein of concern among many citizens that America is at risk and slipping away," he wrote in the memo, a portion of which the Atlantic obtained. "Globalists and Islamists recognize that for their visions to succeed, America, both as an ideal and as a national and political identity, must be destroyed."
The conspiracy-laced memo reportedly also insinuates that the Russia probe is made up to hurt Trump and accuses the left of being "aligned with Islamist organizations at the local, national and international levels," and:
… recognition should be given to the fact that they seamlessly interoperate through coordinated synchronized interactive narratives … These attacks narratives are pervasive, full spectrum and institutionalized at all levels. They operate in social media, television, the 24-hour news cycle in all media and are entrenched at the upper levels of the bureaucracies 
Higgins apparently wrote the memo in May, though warning about the "Maoist insurgency" being co-opted by Islamists was shockingly outside his job description. It's not clear how the memo came to the attention of NSC higher-ups — or why it took so long — but sources told the Atlantic that the memo had been circulating around the White House and may have landed on the president's desk. Finally, on July 21, McMaster's deputy NSA Ricky Waddell (who himself replaced Trump appointee K.T. McFarland when McMaster took the job after Flynn's firing) relieved Higgins from his duties.
In July, former Breitbart writer Tera Dahl also left the NSC, rounding out a string of dismissals for the Bannonesque populists. However, it's unclear if some of the ex-NSCers will leave the Trump orbit for good, or be reshuffled to new posts within the administration. Which means McMaster may have an edge now, but the battle against the fever swamp is far from over.