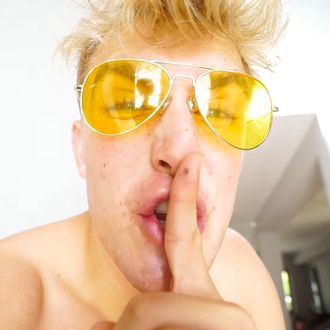 Jake Paul claims his assistant was assaulted.
Photo: Jake Paul/YouTube
On Friday, 20-year-old social-media star Jake Paul — you know, the one who pissed off his neighbors by lighting a fire in his swimming pool, causing him to lose his gig with the Disney Channel — reached a new milestone: 10 million YouTube subscribers. "INSANE!!!!" Paul declared on Twitter, but the victory would be brief. Shortly after reaching the number, Paul posted a new video on YouTube entitled "My Assistant Was Assaulted." The video, and the drama it subsequently caused, would send his follower count sharply back down by over 100,000.
The first half of the 22-minute video is Paul doing his usual antics, but the back half is a more somber, direct-to-camera conversation between Paul, Erika Costell (Paul's girlfriend and a member of Team 10, Paul's social-media incubator), Meg Zelly (Paul's assistant), and Anthony Trujillo (another Team 10 member). In the video, the four claim Zelly had been recently assaulted — she says she was "clotheslined" and grabbed by the throat — in a club in Los Angeles. The alleged assailant, Zelly says, was someone else from the world of social-media celebrity: a YouTuber named FaZe Banks, who happens to be the new boyfriend of Paul's ex-girlfriend, Alissa Violet. (Violet has previously said that Paul cheated on her repeatedly and was emotionally abusive during their relationship.) Zelly says she saw Banks making out with a woman who wasn't Violet.
Of the four, only Zelly was at the club the night of the alleged assault. But that doesn't stop the other three — mostly Paul — from explaining the details of the incident, followed by a monologue about raising awareness and using powers for good. (He manages to invoke the recent car attack in Barcelona. The video is … a lot.) Paul says they have contacted the police and requested camera footage from the club, but that the video "isn't meant to retaliate or target anyone." He says it's "not about beef or starting drama." Indeed.
Banks, in turn, posted a 33-minute video defending himself, saying he didn't "physically assault anyone with intent," but notes it's possible he might have elbowed somebody while dancing. He claims he received a DM from Team 10 COO Nick Crompton — sent before Paul posted the video — demanding he apologize to Zelly. "She said she doesn't think you did it on purpose but she walked by your table last night at Warwick [the club] and you basically clotheslined her," the DM read.
Banks says he did not make out with anybody at the club, and that he woke up the next morning feeling like he had been "drugged." (He says he can't remember much after leaving the club — a lost phone, a scraped up arm from a hopped fence, a near arrest — but has full memories of the earlier part of the evening.) Taylor Caniff — another Viner turned social star — joins Banks and claims that other members of Team 10 were at the club, and that they bought rounds of drinks in an attempt to get Banks blackout drunk. Banks believes the whole thing was a setup, noting the improbability that he and several Team 10 members would all be at the same club, at the same time, while he just happened to be cheating on Paul's ex, Violet.
Later in the video, Violet says Paul spit on her face and feet while they were dating when the couple disagreed on things. (She also says his spit on Costell, who appears in Paul's video. Costell denies this in a later video posted by Paul's brother, Logan.) She also says he shoved her into a cactus while filming a video in Arizona — it was a planned stunt, but Violet says Paul pushed her harder than they had agreed to make it funnier — leaving scars on her arm. (That video has since been deleted.) She also points to a scar on her knee she says came from an incident where Paul threw her phone and dragged her down the stairs. At the end of the video, Banks says he's suing Team 10 for "slander and defamation of character," and that he's working on getting the security footage.
Since the two videos were posted, Banks has seen a spike in YouTube followers — about 200,000 more people — while things head in the opposite direction for Paul. (His follower count is slowly ticking back up following the weekend's drama.) Fans have started dissecting content from both sides looking for answers. There are conspiracy theories about Zelly's bruises — in one video, they appear to sparkle, and some fans believe they are just makeup — and a "cop" in Paul's video who appears to be an actor he's used before. Meanwhile, people taking Team 10's side are calling out the fact that Banks never denied he might have hit somebody at the club. It's all very dramatic, which, as Banks and Paul will tell you, is good for views. Which is good for ads. Which is good for business. On Twitter, Banks said Paul had texted him and the two would be working things out "offline from here on out." He then proceeded to keep tweeting about it.