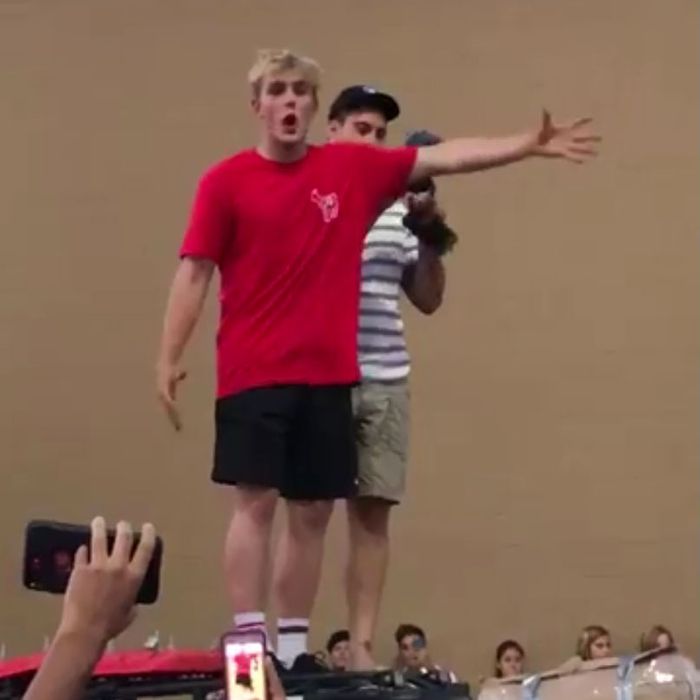 Jake Paul addresses fans from the parking lot of a Texas Wal-Mart.
Photo: Lourdes Tuten
After bidding his friends and family a dramatic and tasteless farewell — Hurricane Harvey has killed over 30 people — and setting off on the "dangerous mission" of driving from California to Houston to "save lives," Jake Paul arrived in Texas this week. But his attempts to buy supplies and load up U-Haul trucks to bring to Harvey victims were tempered by his legion of fans who showed up, in droves, at the San Antonio Wal-Mart where Paul was shopping. An army of Jake Paulers — which is, admittedly a slightly better stan name than the Logangsters, who are fans of Paul's brother Logan — took over the store parking lot. (These are the same fans who often mobbed Paul's street at his house in L.A., prompting his neighbors to file a formal complaint against the social-media star.)
Video from KENS-5 shows Paul standing on top of his truck and yelling at the crowd and telling them they are behaving like "animals." "Everyone calm down, we're not here for a meet and greet," Paul said. "We're here to get supplies to the people in Hurricane Harvey. How are we going to help them if you guys are like … punching each other." His pleas for people to "evacuate" appeared to go completely unheeded.
A second video from KENS-5 — a Texas news outlet that certainly shouldn't have to be covering a social-media star wreaking havoc amid a genuine crisis — also shows Paul leaning out the side of his truck trying to push fans out of the way so the vehicle could drive off. A different video, posted on YouTube by a Team 10 (Paul's social-media incubator) fan account, shows the truck driving away with fans clinging to it and to the Jet Skis and trailer attached to the back. (The same video also claims Paul ran over several fans and later shows emergency services in the Wal-Mart parking lot.) KEN- 5 reports 20 police officers were called to the scene to control the chaos. The fire department was also called after someone started setting off fireworks.
DramaAlert, a popular YouTube account devoted to intra-YouTube drama, notes that the Wal-Mart was so inundated by Jake Paulers that the entire store was forced to shut down. Meanwhile, the latest from Paul himself is short clip on his Instagram Story of Jet Skis floating in floodwaters. "Update, still going," Paul says in the video.