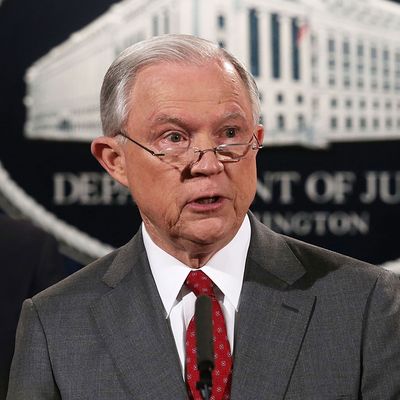 Sessions forcefully condemned Saturday's violence.
Photo: Alex Wong/Getty Images
Appearing on ABC's Good Morning America, Attorney General Jeff Sessions said that the murder at a white-nationalist rally in Charlottesville on Saturday "does meet our definition of domestic terrorism," and called it an "evil act." The Department of Justice has opened a federal civil-rights investigation into the incident.
Sessions also defended President Trump's roundly criticized response to Saturday's violence, in which he blamed "many sides" rather than condemning white nationalism directly. The president, Sessions said in tough questioning from David Muir, "unequivocally condemned violence and hatred and bigotry," and would likely address the matter again. Trump was scheduled to meet with Sessions and FBI director Christopher Wray to discuss Charlottesville later on Monday.
Trump spent the morning angrily tweeting at Democrats and the CEO of Merck, who stepped down from a presidential manufacturing council in the wake of the president's comments over the weekend.
For years, there has been a movement, primarily on the left, to label white-supremacist violence as terrorism, a term that Republicans (and particularly the Trump administration) have tended to associate only with Islamic extremists. Many GOP lawmakers employed the phrase on Saturday to describe what happened in Charlottesville.
But it was particularly notable coming from Sessions. The attorney general has been dogged by racial controversy for much of his career, and has taken bold action at the Department of Justice in line with the Trump administration's white nativist-sympathetic agenda, from immigration crackdowns to a general rollback of civil-rights investigations.
Your move, President Trump.