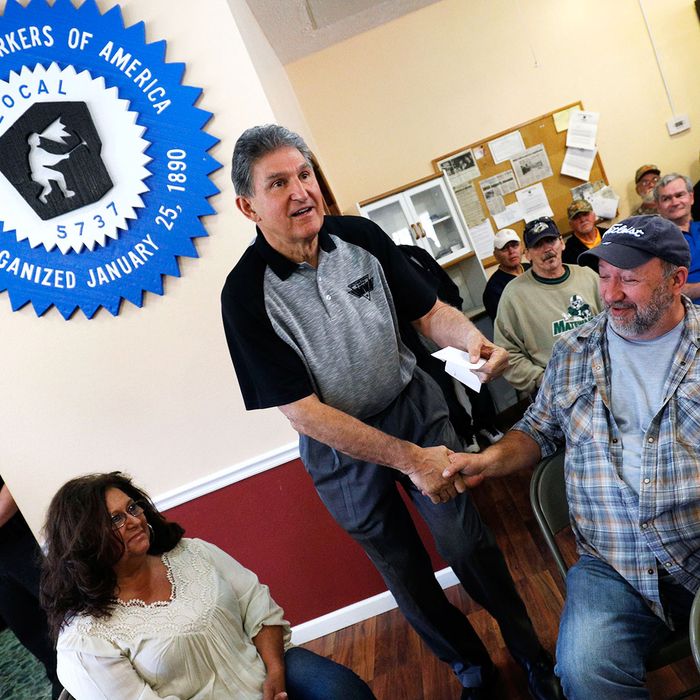 Joe Manchin.
Photo: Bill Pugliano/Getty Images
Last November, Donald Trump won West Virginia by more than 40 points. The new president's overwhelming popularity in the state led some to suspect that West Virginia's Democratic senator, Joe Manchin, would decide to switch parties — or, at least, support Trump's top legislative priorities.
But, as of this writing, Manchin has done neither. The state's newly elected Democratic governor, Jim Justice, converted to Republicanism; West Virginia's Republican senator, Shelley Moore Capito, did Trump's bidding on health care, even though doing so required her to vote for massive Medicaid cuts that would have devastated her beleaguered state. But Manchin stayed in Chuck Schumer's caucus, and voted against every iteration of Trumpcare that was put in front of him.
A new MetroNews West Virginia Poll suggests Manchin made a wise choice: The survey finds that 51 percent of West Virginians approve of the Democrat, giving him a higher approval rating than Justice, Capito, and even the president himself.
Manchin's resilient popularity in an increasingly red state is a testament to the strength of his political brand. But it also reflects the profound unpopularity of the congressional GOP's agenda.
In 2018, 11 Senate Democrats will face reelection in states that Trump won. Had the Republican Party allowed Trump to start his presidency by pushing a policy with popular support — like an infrastructure stimulus — many of those Democrats would have played ball (and alienated the liberals in their base in the process). But the GOP donor class doesn't want to repair America's crumbling roads and bridges; it wants to redistribute income away from social services and into their own bank accounts. And so the first thing Trump and his party did with federal power was to push a health-care bill so audaciously regressive it couldn't attract the support of the Senate's moderate Republicans, let alone its conservative Democrats.
Instead of driving a wedge into Manchin's base, the GOP's approach to Obamacare repeal allowed the West Virginia senator to win public favor by toeing his party's line. And Trumpcare seems to have done a similar favor for the Democrats' other embattled senators. In July, Morning Consult found that North Dakota's Heidi Heitkamp, Indiana's Joe Donnelly, and Florida's Bill Nelson all grew more popular with their constituents over the course of 2017. Meanwhile, the only senator up for reelection in 2018 with a negative approval rating is Arizona Republican Jeff Flake. All the red-state Democrats retained the approval of their electorates, even as they torpedoed Trump's top agenda item.
This all has major implications for tax reform. The president and his party have released a wide array of different tax plans. But all have been united in their lack of fine detail, and emphasis on redistributing income upward. Tax cuts for the rich aren't much more popular than the Medicaid cuts that the GOP just failed to pass (in an attempt to create budget space for tax cuts on the rich). And it's far from clear that Republican senators with idiosyncratic political brands — like Susan Collins, Lisa Murkowski, and John McCain — are reliable votes for their party's tax package. The White House recognizes this fact, which is why the Trump administration has tried to woo red-state Senate Democrats in recent days. 
That seduction could be going better. All but three Senate Democrats have already publicly promised to oppose any plan that cuts taxes on those who make over $1 million a year. The three that haven't signed onto that pledge — Manchin, Heitkamp, and Donnelly — all saw their approval ratings go up after they opposed the president's health-care bill. And now, if this new poll is to be believed, Manchin has a stronger grip on his state's electorate than Trump does.
None of this guarantees that Manchin & Co. won't fold. A ton of corporate money is going to be invested into pressuring red-state Democrats to back tax cuts. Nonetheless, Chuck Schumer has a much better chance of keeping his party in line on tax reform than most thought just a few short months ago.