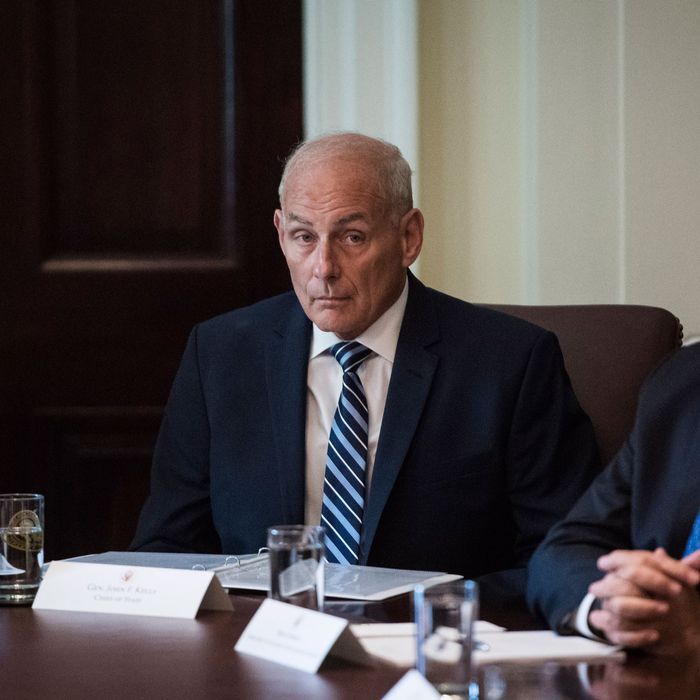 New White House Chief of Staff John Kelly at his first cabinet meeting.
Photo: Jabin Botsford/The Washington Post/Getty Images
When President Trump fired Reince Priebus and hired John Kelly to take over as his chief of staff, it was with the expectation that the retired Marine four-star general, known to be a hard-ass, would institute some much-needed order to the carnival that took over the West Wing in January. After 48 hours on the job, he appears to have had some success.
In his first high-profile act as chief of staff, Kelly fired former communications director Anthony Scaramucci. In what may have been an acknowledgment that his current job in the White House is different from his previous jobs in the military, he did not unscrew the foul-mouthed hedge-fund boss's head and shit down his neck. Instead, Scaramucci told Huffington Post, "It was a very polite conversation."
In some ways, Scaramucci was a sacrificial lamb. After months of watching with frustration as chaos reigned in the White House, Kelly was no longer on the sidelines. Previously, his only option had been to make a deal with Defense Secretary Jim Mattis to ensure one of them was always in the country to keep an eye on Trump. But starting Monday, Kelly was in a position to do something about the disarray. So he fired Scaramucci, which wasn't just an obvious move but a signal to everyone in building that, unless your name is Trump, mistakes have consequences.
No matter how many people Kelly fires though, the true measure of his success will be whether he can contain Trump himself. So far, the results are mixed. On one hand, Trump has been on his best behavior since Kelly was sworn in, Axios reports, "by acting sharper in meetings and even rattling off stats." Stats such as the populations of Malaysia and Indonesia, perhaps.
On the other hand, less than 24 hours after Kelly arrived, Trump tweeted that he remains committed to one of his most self-destructive tendencies —tweeting.
While Kelly will no doubt have trouble controlling what Trump does on his phone, he's already put in new rules for the Oval Office. The always-open door is now closed, according to Axios. The drop-ins and impromptu shit-shooting, so common when Priebus was in charge, have ended. Meetings are short, Axios says, and even Jared Kushner and Ivanka Trump are deferring to Kelly.
The former head of the DHS has even set his sights on new staffers without the lust for drama that so many West Wingers have. Homeland Security spokesperson David Lapan is atop his list. Kelly's longtime aide, Lapan is being eyed for the White House communications role vacated by Scaramucci, CNN reports. Like Kelly, Lapan's history is largely with the military, having served as a spokesperson for the Defense Department and the Marine Corps.
Hiring Lapan would be yet another sign that Kelly is steadying the ship at the White House. But he may encounter some resistance. The White House has reportedly been courting right-wing radio personality Laura Ingraham for the job and, CNN says, she's still on the list.